This post is sponsored by Jiffy-Lube. All opinions are my own.
Guy's seem to always let the ladies take over the house for spring cleaning. I would like to think that I have some sort of control over what is going on. The reality is, I get to clean one thing and one thing only… My Car. Men and women appear to tackle house cleaning at the same rate, but the same can't be said for their vehicles. Nearly sixty (59%) percent of men say they clean their vehicle's exterior daily or weekly, compared to only 30 percent of women who say the same. As for a vehicle's interior, 58 percent of men say they clean it at least weekly, compared to just 34 percent of women. That means men are nearly twice as likely as women to say they clean their vehicle's exterior at least weekly and 70 percent more likely to say they clean their vehicle's interior at least weekly.Women are most likely to indicate they clean their vehicle's interior a few times a year or monthly, as 63 percent of women indicate this compared to only 34 percent saying they clean it weekly or daily. So it's not surprising that men are 50 percent more likely than women to say they get embarrassed when people see the inside of their vehicle because of the trash and other messes. So, I have come up with 10 Tips To Help Guys Spring Clean Their Car.
10 Tips To Help Guys Spring Clean Their Car
1."Hydrate" Your Car for Spring
You aren't the only one who needs to refuel to prepare for spring. your car does, too! Be sure to check the levels of all vital fluids, including motor oil, coolant, transmission fluid and windshield wiper fluid, and top-off, or change fluids, as needed.
2. Organize The Glove Box
Your glove box is a place for important documents. Eventually, it ends up being a storage bin. Take some plastic bags and store all the documents, receipts and "what have you" in separate bags and and then label them with a permanent marker.
3. Unload the Junk in Your Truck
During the winter, the trunk of your car can serve as a catch-all for winter gear and other random items that never quite make it in the house. All that extra weight can affect how well your vehicle performs on the road and could be costing you more money at the gas pump!
4. Give Your Tires a Little TLC
After a long winter of harsh driving conditions, be sure to check the pressure of each of your tires to ensure they're filled to the proper level. Check your vehicle owner's manual or the decal found in the doorjamb or glove compartment of your car to find out what level is right for your vehicle. And don't forget tire tread! An easy way to see if the tread is worn out is the penny trick. Insert a penny into the tread groove with Abe Lincoln's face showing, but with his head upside down. If you can see all of Abe Lincoln's head, it's probably time to replace your tires.
5. Detail, Detail, Detail!
The winter months can wreak havoc on the cleanliness of your car interior. The change of season is the perfect time to give your car a proper detail, from top to bottom! Whip out the glass cleaner and get your windshield and other windows sparkling again. Use a soft cloth and tiny "tools" (e.g., a toothbrush or cotton swabs) to tackle the steering wheel, dashboard and hard to reach areas, like cup holders and air vents. Remove floor mats for a scrub and give the car floor a thorough vacuum job before replacing them.
6. Restock Your Car Emergency Kit
Make sure you and your car are prepared for all your warm weather driving adventures – large and small. Your warmer weather car emergency kit should include a flashlight, jumper cables, batteries, electrical tape, a rain poncho, a reflective safety vest, an emergency blanket and a first-aid medical         kit.
7. Show The Leather Love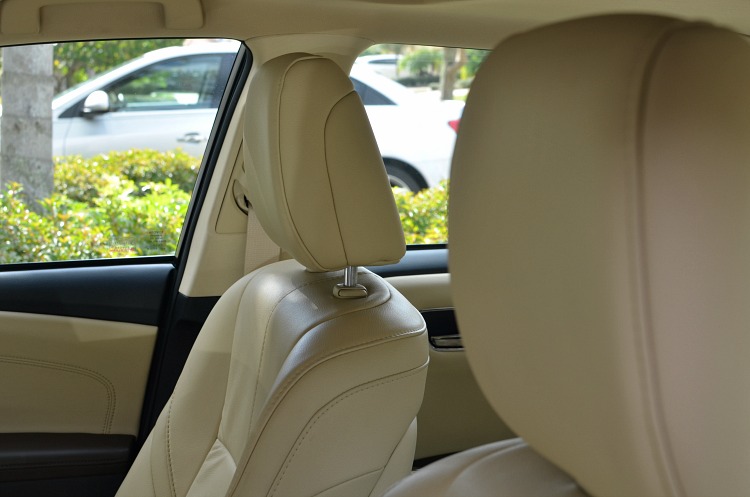 If you have leather seats, make sure to give them some love. You can use a commercial cleaner for leather seats, but I like to make my own: Combine 1 part white vinegar and 2 parts linseed/olive oil in a bowl or spray bottle.
8. Pull Out The Car Seat
All the dads out there will understand this one. Underneath can get really neglected, it's one of those… "out of sight, out of mind" things. Pull out the kids car seat and you never know what you will find. I once found enough change (???) to buy a full tank of gas.
9. Clean Your Headlights
This is something that almost all of us neglect. My dad taught me a trick that sounds crazy, but it totally works. Toothpaste… I know what you're thinking. Rub it on with one rag and then wipe it off with a different one. Rinse with water and you will be amazed at the difference.
10. Go To Your Local Jiffy Lube®
Photo from Jiffy Lube®
Something else my dad taught me was to take your car into Jiffy Lube® for service as recommended for the car I drive. Jiffy Lube® is committed to helping individuals prepare for the road ahead so they can leave worry behind® this spring season. Jiffy Lube® offers expert automotive maintenance services that are quick and convenient, helping drivers maintain their vehicles' value and longevity.
Jiffy Lube® is a name that you can trust when you're ready to spring clean your car. They pioneered the fast-lube category more than 30 years ago by establishing the first drive-through service bay, changing the way millions of drivers service their vehicles.
How About A Giveaway To Start Off Spring?!
Some lucky reader is going to win a $100 Jiffy Lube® Gift Card this Spring. Enter below!
I hope you have a great Spring and all of these tips helped!
Be sure to follow Jiffy Lube® on all of their social channels.
Facebook: Jiffy Lube
Twitter: @JiffyLube
Instagram: @JiffyLubeIntl