This spring my family and I decided to completely overhaul our back yard. A new screened in porch, so we could enjoy the spring nights in South Florida. We planted a garden. It's our new "family thing". It's something we can all do together and even at my age, I love playing in the dirt! My daughter really enjoys being out in the garden, but I always tell her to make sure she has a drink with her when she is out in the heat. Her drink of choice lately has been Fruit Shoot Fruit Punch. This summer, I'm all about outdoor fun with my family and Fruit Shoot.
Outdoor Fun With My Family and Fruit Shoot
We built the raised garden bed ourselves and filled it with all kinds of good things. Kale, tomatoes, peppers, and some marigolds to help keep the bugs away. The garden has already become a favorite place for all of us to spend time.
One of the reasons that we built the garden was so that we could have some say in what we were consuming. We know that the veggies in our garden are free of anything harmful. It gives us piece of mind. So many drinks that are marketed as "Kid Friendly" are full of chemicals and high fructose corn syrup. Fruit Shoot comes in a variety of regular and no sugar added flavors – with 20 calories or less and three grams of sugar:
• Apple (no added sugar)
• Berry Burst (regular and no added sugar)
• Orange (regular and no added sugar)
• Strawberry & Raspberry (regular and no added sugar)
• Wild Berry Grape (no added sugar)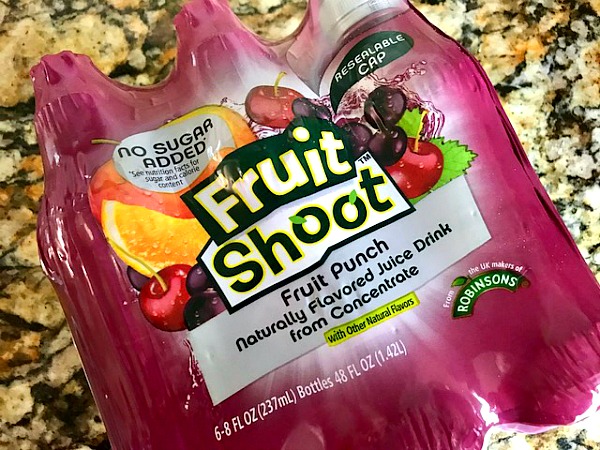 My daughter has been loving their newest flavor Fruit Shoot Fruit Punch!
Fruit Shoot is made with real fruit juice from concentrate. It's also free of artificial flavors and all that other junk like high fructose corn syrup. Plus it comes with a re-sealable cap (Dump those juices that come in the pouches!), so you don't have to deal with any messes. You can just let your kids do their thing!