This shop has been compensated by Collective Bias, Inc. and its advertiser. All opinions are mine alone. #PurrfectPurinaMatch #CollectiveBias
At some point, my family became cat people. I'm not quite sure how it happened. But, I woke up one morning and there they were! I had one cat sleeping on my chest, one of them sleeping at my feet and realized they were part of the family. Actually, I realized that if they weren't there, I would miss them. Sounds like family to me! That's why I stick to 3 Things That Keep Cats Happy And Healthy.
Coco is our 10 year-old tabby, calico mix (She looks like Dr. Frankenstein sewed her together).
Rocky is 7 and was rescued from a bucket at our local farmers market (We have NO IDEA what he is).
Kai is our three-old bundle of energy.
Let's just say, they are VERY pampered. The girls are always finding new products to lavish upon them. That's why we love going to Pet Supplies Plus.
We're able to find great, new products for our kitties, like the great one's from Purina® that I'm talking about today and we won't break the bank trying to do it. The customer service is impeccable and the employees are always willing to help us find whatever we might be looking for.
3 Things That Keep Cats Happy And Healthy
Clean out the litter box – In a multi-cat house, I feel like I am scooping all day long. But, I have noticed that they seem happier and more at ease when it is clean. Nobody likes to sit in their own poop!
Purina® Tidy Cats® Free & Clean Unscented LightWeight Litter is clumping and built for multi-cat households. It has no fragrances or dyes, 100% dust-free so that we don't have so many messes and odor-absorbing activated charcoal. I'm a big fan of the last one… I hate it when I walk in the house and can smell the litter box!
Lots of playtime – These three LOVE to play! It keeps them healthy and active. Cats that are played with on a daily basis have a healthier sleep schedule. It's not good for them to just lay around all day, so grab some toys and schedule daily play time!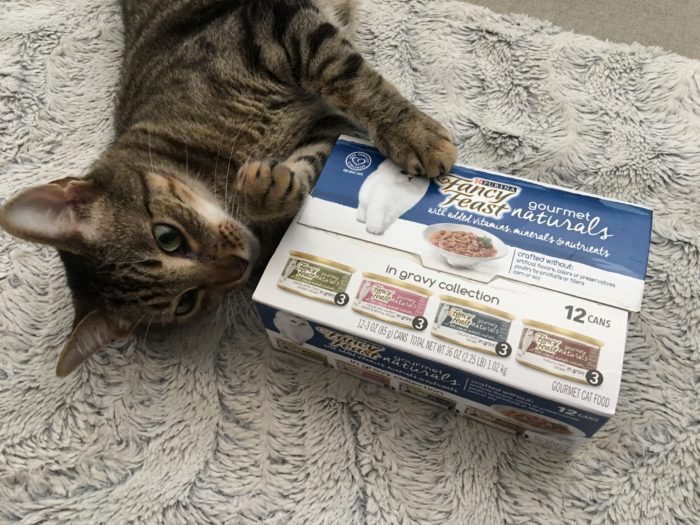 Good food – Who doesn't like good food? Have you seen my profile picture? It's obvious that I do! Feeding your kitties good food is a must. We've been feeding them Purina® Fancy Feast® Gourmet Naturals.
It has natural ingredients and a fantastic taste that our kitties love! I'm also big on the fact that it doesn't have any artificial colors, flavors or preservatives. Gourmet Naturals has added Vitamins, Minerals and Nutrients so it's a wet cat food that is delicious by nature.
Check out how much they love dinner time…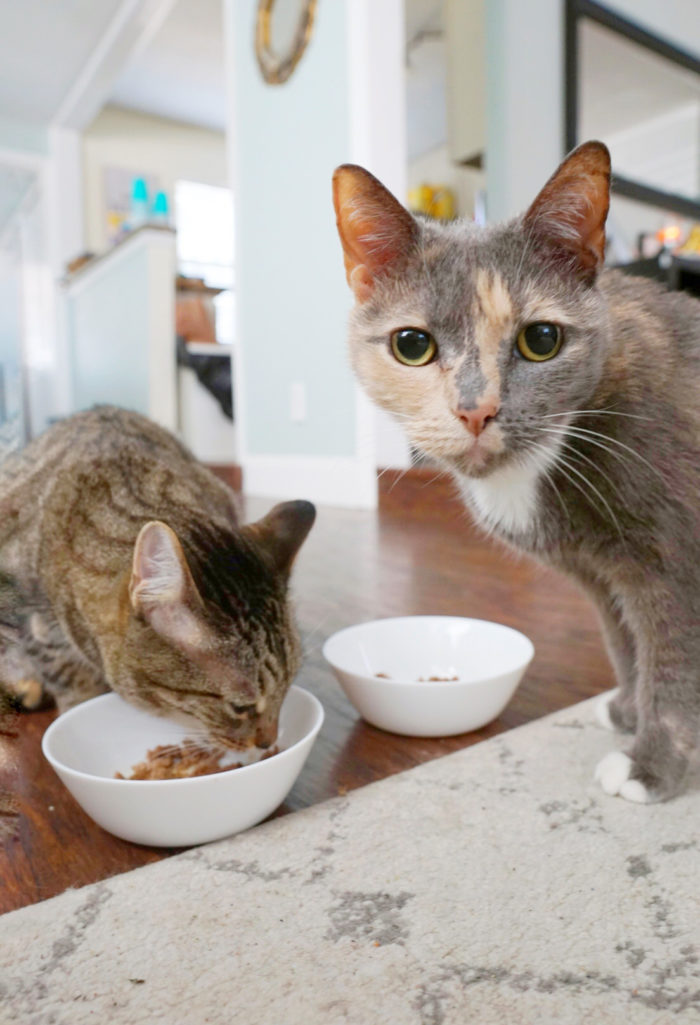 You can find all of these great Purina® products at your local Pet Supplies Plus!!