The reviewer has been compensated in the form of a Best Buy Gift Card and/or received the product/service at a reduced price or for free.
There is a reason that I like to keep my living room tidy. When I, or my wife or daughter come home and decide to relax, we go to the living room. It's a place where we gather, unwind, watch a movie, read a book or just sit and do absolutely nothing. When it's tidy, there is a calmness that comes over me and I feel like all's right with the world. I know it sounds weird, but I think it's mentally, physically and emotionally healthy to keep your living room tidy.
3 Tips For Keeping Your Living Room Tidy
1. Furniture That Serves Two Functions – My beautiful wife turned me on to this. We have a living room table and a footstool that also double as storage units. They house seasonal pillows, blankets and other knick-knacks, but they also look great and are a HUGE space saver.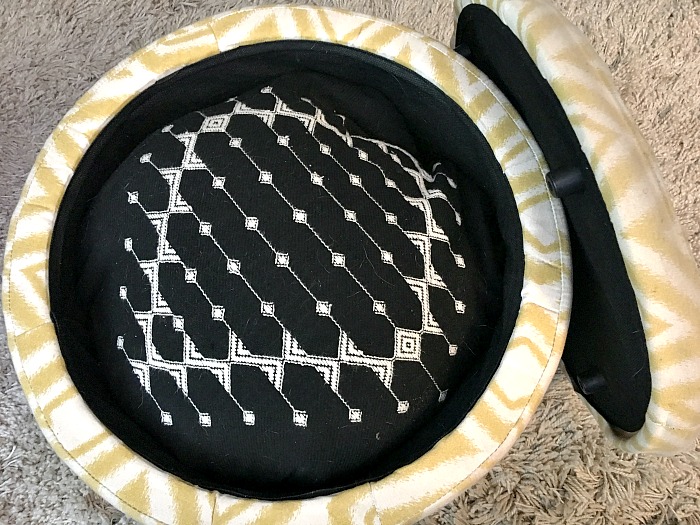 2. Clean Up a Little Everyday – BIG, BIG, BIG!!!! This is the one thing that I always have to remind myself of… if you have an extra 10 minutes, do some cleaning. Dust, wipe down the TV screen, reorganize the game consoles (HUGE thing in my house) or just fluff some pillows and make the couch look good.
3. Hide Your TV Cables – You want to talk about an eyesore?! A bunch of cables coming out of your television will make your living room look horrific. A Legrand flat panel recessed connection kit helps offer convenient access to the back of your TV.
You can hide those ugly TV cables with this easy routing of TV power and HDMI cable in-wall, that has zero electrical wiring required. Connect your television to cable and electricity in a completely seamless style with the Legrand flat panel recessed connection kit. Its in-wall storage takes control of all of your cables and wires to eliminate tangles across your floor. Then the white decorator plate provides a finished look.