As promised I'm going to start posting what I felt were the beer highlights at the 1st Annual Sarasota Beer Festival. Can you hear that?! It's my good friend Tom Cruise giving me a drum roll on his tiny snare drum.The best beer I had at this years Sarasota Beer Fest is… Amadeus!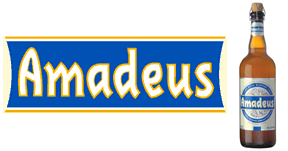 It's kind of funny but I seem to have an affection for French beer. I'm also a fan of Kronenbourg 1664 which is also French. Actually come to think of it, I like a lot of French things. French fries, French bread, French dressing and the French foreign exchange student from the 80's classic "Better Off Dead" (I'm sorry your mom blew up Ricky).
Amadeus is indeed imported from France and is an unfiltered wheat beer. I went back for MANY samples of this beer. It is crisp, well balanced and could really be paired with almost any meal or occasion. You can find this tasty beer at your local Total Wine (God's gift to us all). It is a little pricey, but well worth every penny. Keep an eye out for it R.O.T.R readers and, as always, you'll toast me later!