The most underrated and let's face it, at times boring, meal of the day is breakfast. But, if you're heading to Long Beach, CA (And you should) this summer. These are my favorite places to eat breakfast in Long Beach,CA. They're like the city were they abide… Fun, original and you want to eat it up by the handful!
I recently had the pleasure of visiting the city of Long Beach, CA. Located 22 miles south of downtown Los Angeles, it is part of L.A. county and the seventh largest city in California. I really didn't know much about Long Beach, other than what I had heard about it in songs by Sublime and Snoop Dogg. What I found was a beautiful city that takes a lot of pride in its history, multi-cultural diversity and keeping things local. They also have some of the best restaurants that I have ever dined in.
Let's start with breakfast!
The Breakfast Bar – Owners Josh and Pamela Beadel are taking recipes from their family cookbooks and creating dishes that will wake you up in the morning. Don't be scared to order one of the many local beers they carry, no one at The Breakfast Bar will judge you for drinking a beer with breakfast! They also have fresh Bellini's and refreshing homemade Chandi's (Beer and Lemonade, for those who don't know). The portions are ginormous, so don't be afraid to bring your appetite or ask for a takeout box. I loved the Chicken and Waffles, but the "Hung Over" takes breakfast to a whole different level. French Fries smothered in Nana's sausage gravy, topped with scrambled eggs, cheese and then topped with peppers, onions, sliced sausage and spicy sour cream. This is a must try! It's got a great laid back local feel and the staff was amazing! If I lived in Long Beach, this is where I would be hanging out most mornings. The Breakfast Bar makes you feel like you belong there. You know, like you're a local!
Follow them on Twitter, Instagram and Facebook.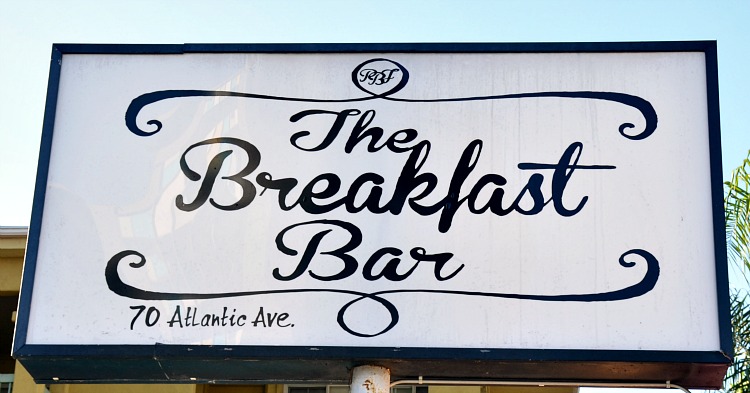 Chicken and Waffles
The Hung Over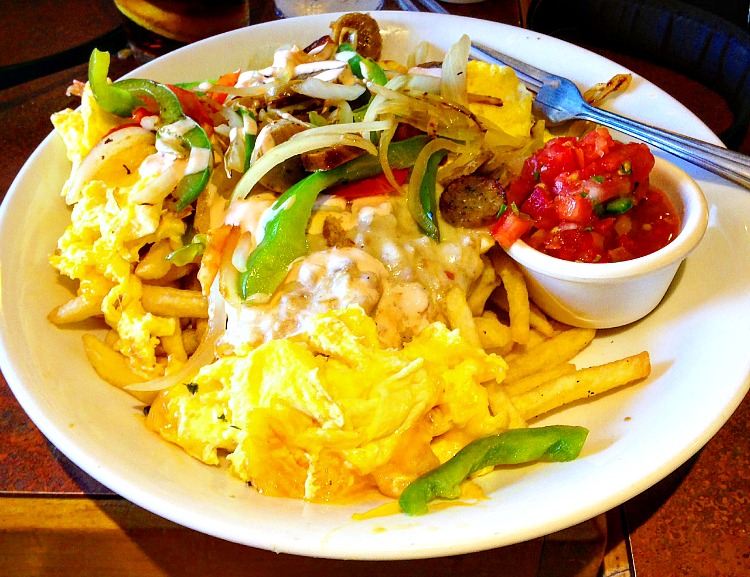 The Attic – Where do I start? A culinary experience that blew my mind… Yes, that is a perfect place to start. Located in a refurbished house on a unassuming corner in Long Beach sits what may be the best restaurant I have ever eaten at in America. It's for sure the best on the West Coast. When you find yourself eating homemade mac and cheese topped with crumbled Flaming Hot Cheetos at 9am, you know it's going to be a great day! Start out with the Bloody Mary menu (Do yourself a favor and order some Slim Jim stuffed olives… Trust me!) and after you're done with that, order one of their French 75's. Now you're ready to look at the menu. If you don't catch the New Orleans influence as soon as you sit down, when you open the menu, it will knock you out of your chair! Shrimp and Grits, Benedict mash-ups, alligator andouille sausage and candied cayenne bacon are just a few of the highlights. I am a Benedict nut, so I started with the F.G.T. (A fried green tomato Benedict… Yes, please!). Amazing! The green tomato was perfectly breaded and the signature cajun hollandaise was a great compliment. Don't be afraid of the alligator andouille sausage, they're like little strips of heavenly goodness. Everything I tasted was filled with love and executed to perfection. When you visit Long Beach (And you need to… Seriously, book a plane ticket right now!), The Attic needs to be your first stop!
Follow them on Twitter, Instagram and Facebook.
Crumbled Flaming Hot Cheetos Mac and Cheese
Build Your Own Bloody Mary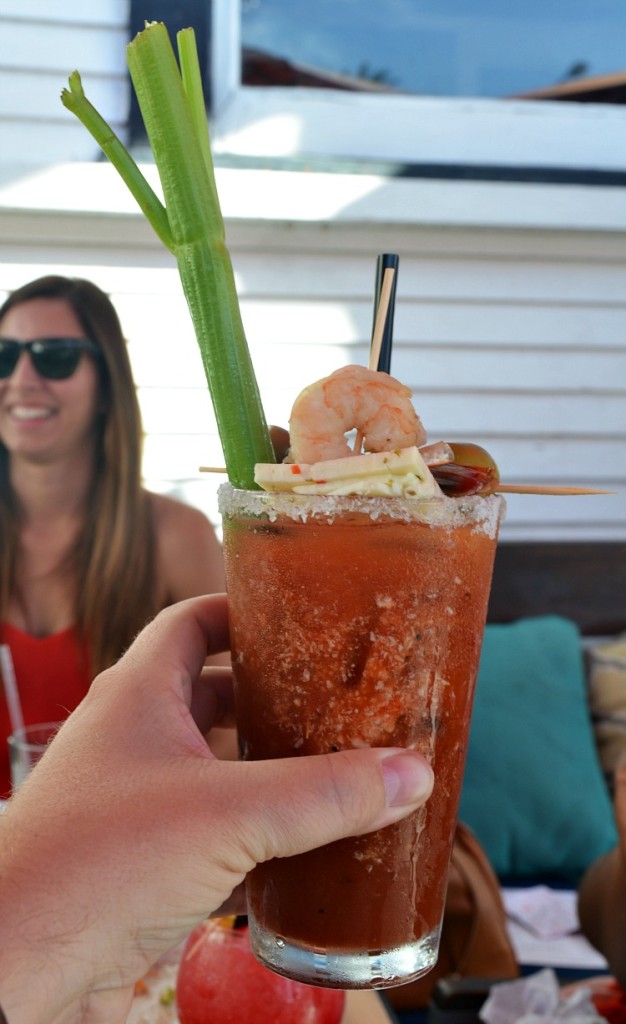 F.G.T. Benedict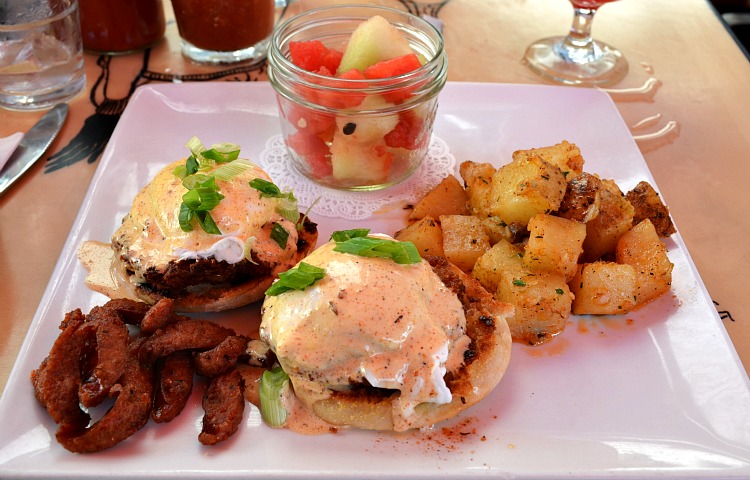 We'll cover lunch and dinner in a few other posts, so keep an eye out! Thank you to the Long Beach CVB and DCI for hosting me. I had an amazing time!