I recently had the good fortune of being invited on Norwegian Cruise Lines newest ship, the Norwegian Getaway. Sailing out of the port of Miami, the Norwegian Getaway is one of the best experiences I have ever had on a cruise ship, and let me tell you … I've been on a lot of cruises! The Miami themed ship was amazing from top to bottom.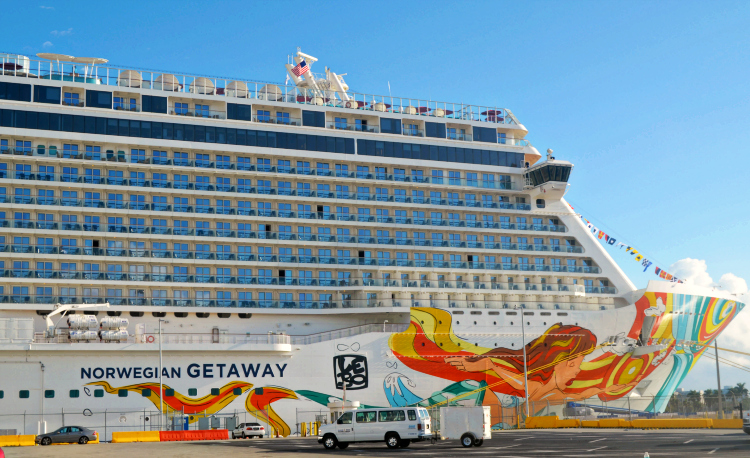 The Sugarcane Mojito Bar serves mojitos and rum-centric drinks that are hand crafted and truly original. My wife and I had a Pimm's no. 8 Cup,  a Raspberry Guava Mojito and a Spicy Passion Mojito— they were all great drinks that automatically brought my mind to a faraway tropical locale. Be patient with the bartenders, some of theses drinks are a major process, but you will know after your first sip that it was worth the wait.
There is a ropes course and mini-golf course that have a pirate theme and a plank that you can walk, it carries you 8ft over the side of the boat. Also, for the kids  they have a pirate-themed Nickelodeon Kids' Aqua Park that features 5 water slides and some pretty cool Spongebob Squarepants characters.
I also was quite impressed with our stateroom. The mini-suite was plenty of room for my wife and I, and came equipped with a balcony and one of the largest and palatial bathrooms I have ever seen on a cruise ship. The shower alone was amazing! How about 6 strategically placed jets to make sure you are massaged and clean from head to toe?
One the highlights for "Mom on the Rocks" and I was the Svedka Ice Bar. I had been wanting to experience an Ice Bar for a long time and was not disappointed. A really cool atmosphere (no pun intended…actually, I worked on that for a long time) with fantastic drinks. It's a little bit extra, but totally worth it.
Before we pulled out of port we were treated to the christening and send off featuring Brooke Burke, the Miami Dolphins cheerleaders and Mr. Worldwide himself…Pitbull. We had never seen him perform live and I was blown away! The guy has an infectious passion for what he does and it spills over into the audience (I was afraid the 65 year old  women standing in front of me was going to break a…well, everything!).
Do yourself a favor and take the family on a "Getaway"… Miami is waiting for you!
Special thanks to Norwegian Cruise Line for inviting my wife and I on the Norwegian Getaway. All opinions are my own.