This post is sponsored by V8, but the content and opinions expressed here are my own.
In my house, I am Mr. Christmas. It is officially my FAVORITE time of the year! I go crazy with decorations, I start working on my Holiday menu and generally dive head first into all things holly and jolly. But, I might have a tendency to overdo it. This year I've decided to conquer Holiday hustle and bustle with new V8 +HYDRATE.
We all know that it's super easy to get stressed out this time of year. Whether I'm frizzled, frazzled or straight up spent… I can't slow down until January 1st rolls around. First, I start with the decorating. It lays the groundwork for putting me in a holly jolly mood.
Yes, I'm the guy who puts up his tree before Thanksgiving (Don't Judge!!).Then, I start in on the cooking. I do everything from scratch and most of the recipes are very ingredient and labor intensive. My family knows that in the final weeks leading up to December 25th, you're more than likely going to find me in my kitchen. Finally, I have all of our family over for a Christmas Eve party. We bake and decorate cookies, exchange gifts and have really great time being with each other. I'm tired just writing about it! This year I'm going to be stocking up on something that I think is going to take care of me this season.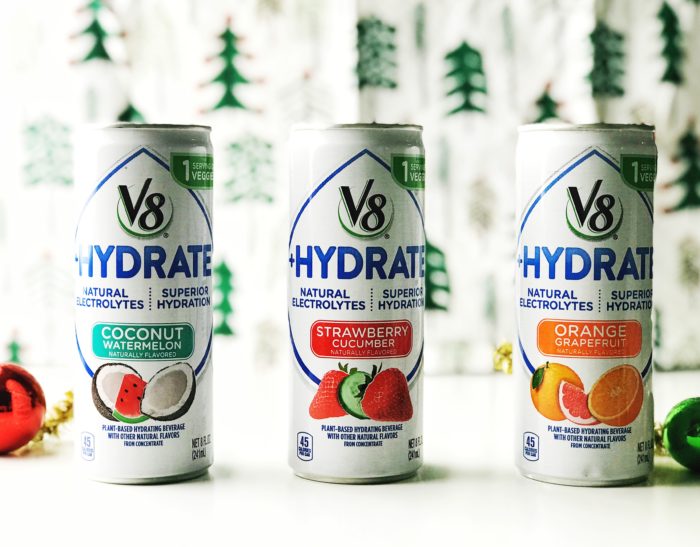 V8 +HYDRATE is a tasty mix of natural electrolytes from vegetables and hints of fruit that can help you restore your holiday cheer. V8 +Hydrate will give superior hydration with its isotonic blend of natural electrolytes that come from sweet potatoes and it has hints of fruit for a delicious beverage that will replenish you quickly. There are 3 tasty flavors to choose from.
Orange Grapefruit, Coconut Watermelon and Strawberry Cucumber.
If you're looking for something this season and beyond, that will keep you feeling hydrated and on top of your busy lifestyle. Give V8 +HYDRATE a try!!