This post is sponsored by Mirum but all opinions and my love of football are my own.

Professional football season has been in full swing for the last few months and let me tell you… I've been in heaven! My dad and I are usually watching multiple games at once, checking our fantasy teams and when games get too close, we are doing a lot of sweating. (Jumping up and down and yelling at a TV takes a lot of work!) My wife knows that she married a football fanatic and she truly loves that about me. But, what she doesn't like is when I end up smelling like a gym sock after an afternoon of watching the games. With the playoffs and the "The Big Game" coming up on February 4th… She has decided that we will be keeping it clean on game day!
Keeping It Clean On Game Day
There is one brand of products that I really like, so I went and scored some Dove Men+Care at my local Sam's Club. I can get club-sized packs of Dove Men+Care, which can last all season long.
Another big plus about Sam's Club is that I can also grab munchies and party trays for "The Big Game" (I'm also a sucker for the bakery… There WILL be a football shaped cake at my party this year!). 
Dove Men+Care really works for me because my skin tends to get dry and I also don't want to smell like lavender, vanilla bean or anything that I might've found in my grandmother's flower garden when I was a kid! 
If you haven't used the new Sam's Club Scan & Go app, I highly recommend it.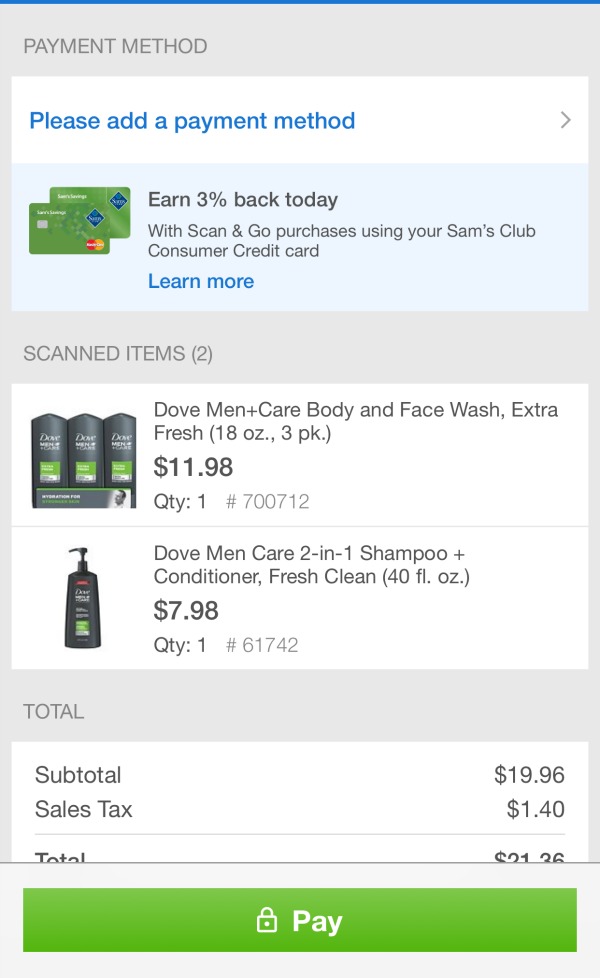 It only takes about 5 minutes to set up and it saves a ton of time. Just go to your local Sam's Club, scan your items as you put them in your cart, pay on the app with the credit card you have attached to it and then show your e-receipt as you leave. There's no waiting in line! Speaking of receipts…
Dove Men+Care and Sam's Club Big Game Sweepstakes wants to give you a chance to win a trip to the Big Game or other fantastic prizes!
To enter:
BUY any 2 qualifying Dove Men+Care items in the same transaction at Sam's Club.

UPLOAD an image of your receipt to

www.dovemenbiggame.com

ENTER for a chance to win a trip to the Big Game or other super prizes!
Uploading your receipt is really easy. If you have a paper receipt, just take a picture of it and use that image. If you have an e-receipt, just screenshot it and use that image. Easy!
ONE GRAND PRIZE WINNER who will receive a 5-day/4-night trip and 4 tickets to the Big Game in February! Air transportation and accommodations included.

ONE 1ST PRIZE WINNER will receive a 4k, Ultra HD LED big screen tv!

ONE 2ND PRIZE WINNER will receive a Sam's Club membership upgrade or renewal.
Good Luck and Remember To Keep It Clean!!