When shopping for a tent, consider the types of camping you want. You may not care about weight and packed size if you're car camping or backpacking.
You'll also want to consider the tent's vestibule. A vestibule helps minimize jostling as campers go outside to answer nature's call.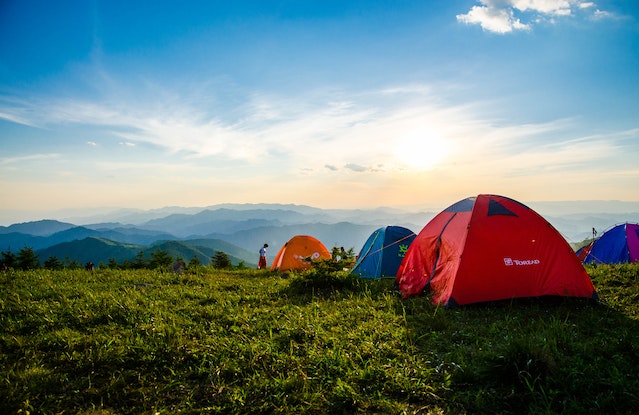 Weight
When choosing a tent for backpacking trips, weight is a major consideration. Backpackers must carry their tents on their shoulders for long distances, so the lighter they can make their load, the easier it will be. The packed weight listed on each tent refers to the total package purchased, including all pegs, ropes, and the stuff sack that holds the tent. This number will be heavier than the trail weight (also known as minimum weight), which refers to the actual weight of the tent when it is stripped down to its essential components.
Some manufacturers or providers, like Eureka tents Canada, include a tent footprint with each tent to help with ground protection and provide extra padding against sharp objects. Purchasing an additional set of lightweight tent stakes can help shave a few pounds off your pack weight.
Size
The size of a tent determines how many people can sleep comfortably inside it and how much camping gear can be stored. It should be spacious enough to give everybody plenty of space for movement and to avoid any feelings of claustrophobia during the trip.
However, a tent should be manageable because it can take up a lot of storage space and may be difficult to carry when backpacking or car camping. It also takes a long time to set up a large tent. The ideal tent size will depend on several factors, including the outdoor environment and conditions you plan to camp in. For example, if you are going on a weeklong expedition, choosing a tent with a larger floor area is better than a smaller one.
Weather Resistant
You want a tent that can withstand rain and wind in harsh environments. Look for tough fabrics and strong poles. You also want a properly ventilated tent, which is vital for keeping the interior of your tent comfortable. Manufacturers use a number called hydrostatic head to indicate the ability of the fabric to repel water. A high value means the tent is waterproof, while a lower one does not. Some tents have extra rooms for gear stowage that can greatly increase livability in rough conditions. On the other hand, some have windows and ground vents for more ventilation.
Ease of Setup
In addition to the type of camping tent you choose, it's worth examining the specific amenities available. For example, some tents come with vestibules, which reduce nighttime jostling as campers go inside and out to answer nature's call. Others have options like clotheslines that keep items off the floor and out of the way of trampling feet. Unless you're going for a super lightweight, backcountry camping model, most tents are heavy by ultralight standards. Consider an aluminum pole design that boosts strength without adding too much weight to the package. You should also examine the materials to ensure the tent, fly, and stakes are durable for your camping trips. In particular, look for strong, clean stitching, taped seams, and a rain-fly that covers the tent's zippers and tie-down points.
Family Friendly
A tent's stated sleeping capacity is only part of the picture. A big factor is floor space—pay attention to the listed dimensions, and you'll get a much clearer idea of comfort levels. Another key consideration is whether you'll be car camping or backpacking. A regular department store family tent is fine if you're driving to camp, but weight becomes an important factor if you're carrying your tent in a backpack.
You might also consider a fun teepee or yurt rental for a more "glamping" experience. Some state parks and private campgrounds have yurt and teepee rentals; some can even be reserved for special occasions. Check with the park or campground before purchasing or reserving one of these structures. They're great for a memorable family outing.