In March, I watched my first IMSA race. High energy, cool cars, amazing tracks. It was pretty easy to get into. It's definitely one of those sports where you are getting up off your couch and screaming at the television in a fit of pure testosterone. The first race I watched was on FS1 and I really liked it. The coverage is fantastic and even if you are a newcomer to IMSA racing… They will catch you up real quick! There's a big race coming up and I'm thinking that I need to invite some friends over. But, one thing that I have learned. I enjoy my IMSA with a great snack!IMSA Racing is all about high-tech, race cars from the world's top automakers. The last event that I watched was the 12 Hours of Sebring. It was so crazy! These drivers are some of the best that are racing. They also have some of the biggest and most exotic names in cars including Acura, Audi, Aston Martin, BMW, Cadillac, Ferrari, Ford, Lamborghini, Lexus, Mercedes, Nissan, and Porsche.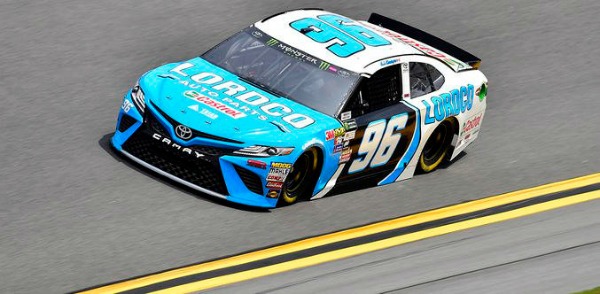 The next, big IMSA race that I am going to tune into is the Circuit of The Americas from May 4-6th.
You can tune-in to the action on FS1 from 7pm-10pm ET, with the entire race simulcast on FOX Sports GO.
The big broadcast start time for the Circuit of The Americas race is on FS1 – Saturday, May 6th from 7-10pm ET.
I'll be inviting some buddies over and have decided to make my insane Chicken Enchilada Dip. One of the reasons I picked this one is because it begins to give you your first lesson in IMSA racing. Cars with red numbers, like my enchilada sauce are Pro. Cars with green numbers, like the jalapeno, are Pro-Am.
 Chicken Enchilada Dip
Ingredients:
1 can red enchilada sauce
1 chicken breast, shredded
1 can of black beans, drained and rinsed
1 can sweet yellow corn
2 1/2 tablespoons taco seasoning
2 cups shredded Mexican blend cheese
1 small container of sour cream
1 jar of jalapenos
Tortilla chips
Instructions:
Preheat oven to 400 degrees. Pour enchilada sauce into a casserole dish or shallow baking dish (a pie dish works well too). Add black beans, corn, and shredded chicken. Sprinkle taco seasoning over whole dish. Top with shredded cheese.
Bake 15-20 minutes until cheese is bubbly and begins to brown.
Top with sour cream and jalapenos.
Serve with Tortilla Chips.
Enjoy!