There's nothing better than discovering a car that you really, really bond with. You walk around it a few times, admiring the lines and the color. You open the driver side door and it's like unwrapping a present on Christmas morning. You slide in and put your hands on the wheel. The stereo system is crisp, the touchscreen has every bell and whistle you could imagine. The sun roof would be perfect for a long fall drive in October and the leather seats are smoother than you ever could have imagined. You sigh, knowing that you're going to have to wait to drive your new dream car. But what if someone came over and told you, "You can drive your dream car immediately!"
You can drive your dream car immediately!
This weekend at the Tampa Bay International Auto Show, that's exactly what can happen. My wife and I attended for the second year in a row. We were interested in checking out the Kia booth and seeing all they had to offer. Right now, we drive a Kia and to be honest, we're already interested in getting another one. They had an incredible selection, so we just started wandering around, trying to to get a good look at all of them.
I had in my mind that I wanted to drive all of them. But, that would be impossible… Right?! My wife and I were handed a card that cleared everything up!
Kia Ride and Drive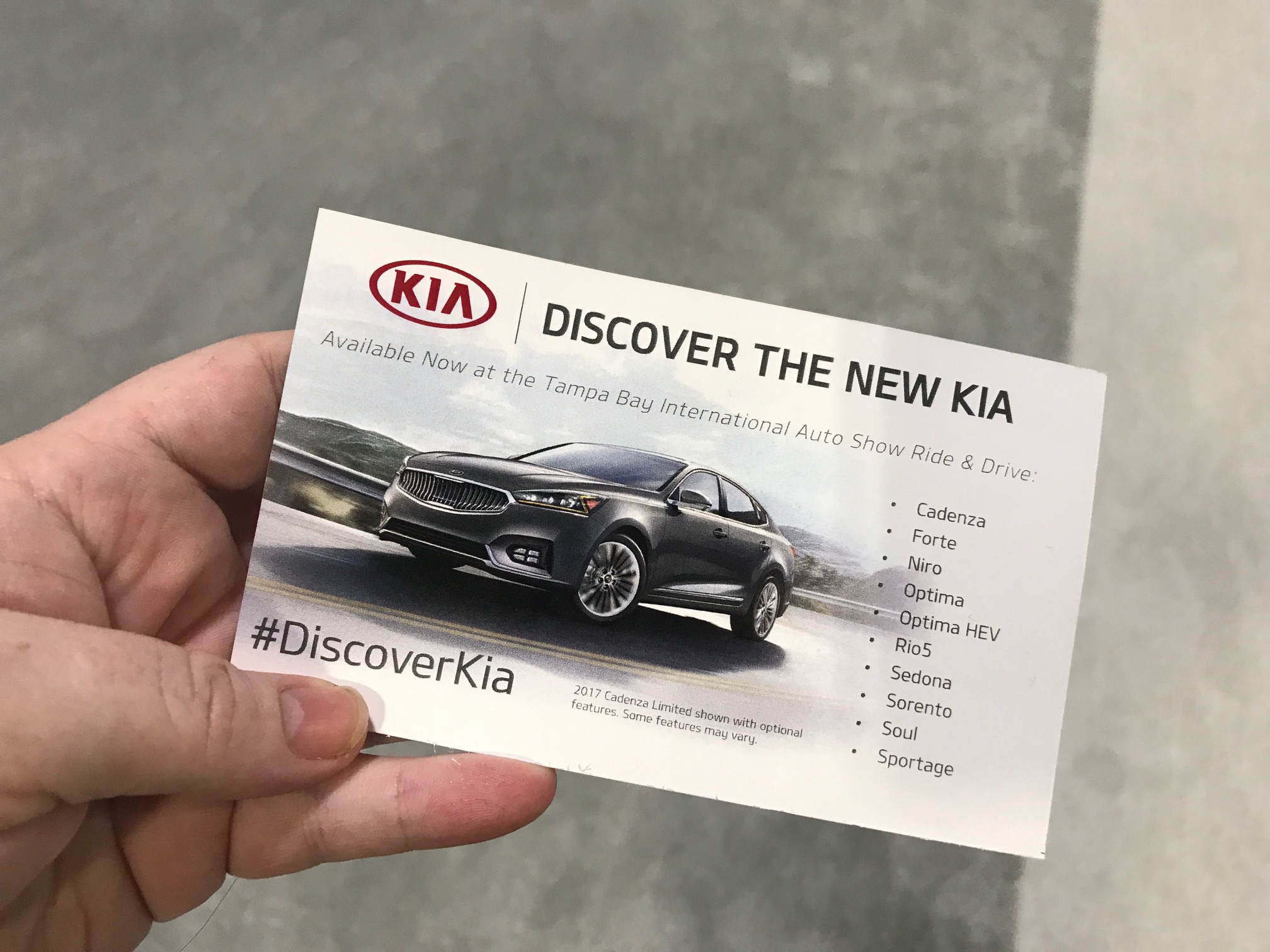 There is a Kia Ride and Drive at the Tampa Bay International Auto Show that will allow you to drive your dream car… or all 10 of them.
Cadenza
Forte
Niro
Optima
Optima HEV
Rio5
Sedona
Sorento
Soul
Sportage
The Kia Ride and Drive is located right across the street from the Tampa Convention Center and is centrally located in beautiful Downtown Tampa where there are plenty of places to take your dream car to see some sights.
Over the next few months you will be able to experience the Kia Ride and Drive at the Los Angeles (DEC 1 – DEC 10), Detroit (JAN 8 – JAN 22) and Chicago (FEB 11 – FEB 20) Auto Shows.
Make sure that you don't miss the chance to find and drive your dream car!
This post was sponsored by Kia. All opinions are my own.