I have been compensated by Best Buy. All opinions of the LG Combination Double Wall Oven are my own.
Over the years, I have taken over a lot of the cooking duties. Honestly… I LOVE IT!!! The kitchen is where I feel my most comfortable and I get freedom to create. But sometimes, my kitchen is not equipped for all of my baking/cooking needs. Now I can find some kitchen comforts with the LG Combination Double Wall Oven.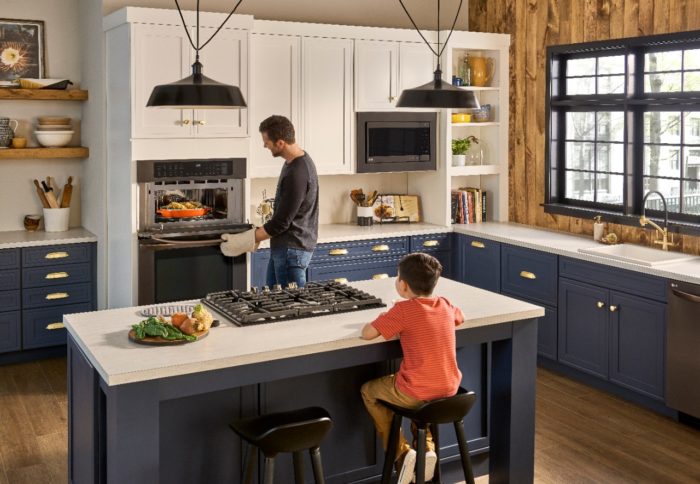 When my recipes start to get serious, I need more space and flexibility in my kitchen. The LG combination double wall oven will deliver the even cooking of convection to the speed of a microwave, and more.
Here are 3 great advantages of the LG Combination Double Wall Oven
Cut Cook Time in Half – With LG's TurboCook™ Speed Oven you get the quickness of a microwave and the quality you'd expect from a convection oven. You can bake whole chickens, potatoes, pizzas and more, with NO preheating required. With speeds 2 to 4 times faster than a traditional oven, you'll have more cooking flexibility and more time to enjoy your meal.
You Can Cook with Confidence – True Convection will deliver precise heat for crisp, delicious food. Bring your baking game to the next level with LG's True Convection oven. LG's convection technology will evenly distribute continual precise heat so your food is delicious on the inside, and crisp on the outside.
Style That Changes Everything – The LG Black Stainless Steel Series brings luster to any kitchen spaces. It remasters the traditional stainless steel look that has become the standard in modern homes with a satin-smooth, warm and sophisticated finish unlike any other, It's a timeless expression that pairs beautifully with any style or color of surrounding cabinetry.
Click here to save $500 with the purchase of a 5-piece LG Kitchen Package
Offer valid: 12/6/18 – 3/6/19