The UK must have it right. Can't afford an expensive bottle of whiskey? Buy a sample online and have your own private whiskey tasting. Why hasn't anyone thought of this before? Sign me up!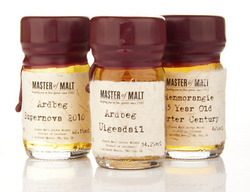 Online retailer and independent bottler, Master of Malt, have launched a revolutionary whisky sample service called "Drinks by the Dram".
For the first time ever, whisky lovers and drinks connoisseurs will be able to purchase inexpensive 3cl (30ml) samples of a rapidly growing range of Scotch whisky and other spirits from across the globe.
The inability to sample high-end drinks like Scotch whisky before making a purchase has been a clear stumbling block for online off-licenses since their emergence in the late 1990s. "Drinks by the Dram" neatly solves this problem allowing by connoisseurs and beginners alike to 'try before they buy' on a huge range of whiskies and other spirits.
Master of Malt's Sales Director, Ben Ellefsen, explains that the idea originally grew out of an informal sample service for friends and staff:
"As pretty serious whisky fans ourselves, we wanted a way that we could sample new releases from our favourite distilleries and bottlers without the expense of committing to a whole bottle of each before we'd even tried it.
Drinks by the Dram started life as a way of allowing our staff and friends to compare and contrast a range of whiskies safe in the knowledge that the investment required was not one that was likely to land them in the dog-house on a semi-regular basis."
He continues "We soon found the friends we gave samples to often came back and bought the rest of the bottle! When we showed the idea to the distilleries and brand owners, the reaction was so unequivocally positive we decided make the service available to our customers as well.
A few months down the line, and we're starting to see excellent results, grateful customers, and slightly more haggard-looking employees… We hope to have several hundred drams available soon, and are currently working tirelessly to offer an even bigger selection for whisky fans everywhere."
Try before you buy
One of the most exciting parts of the service is the wide range of samples available. The selection is vast, and numerous styles of spirits and whiskies are available; from 10 year old Bourbon, to 40 year old single malt Scotch whisky.
The range isn't just high end malts though; there are samples of "everyday" whiskies, with prices starting from only £1.95.
The drams are labeled with handmade paper, and each bottle individually wax dipped to seal it.
The initial range includes samples from many world famous brands including Glenfarclas, Bruichladdich and Edradour whisky distilleries, and several outstanding independent bottlers, including Murray McDavid; Renegade Rum; Alchemist; Signatory and The Vintage Malt Whisky Company.
The range is expanding rapidly, and there will be several hundred more samples available by the end of May, with over a thousand expected by Christmas. A full list of samples is available at: www.masterofmalt.com/drinks-by-the-dram
About Drinks by the Dram
Inexpensive 3cl (30ml) samples to try before you buy
Revolutionary new concept in online drinks retail
50 drinks currently available as "drams" with over 200 expected by the end of May
See a list of available drams at: www.masterofmalt.com/about-drinks-by-the-dram
About Master of Malt
Award winning Independent Bottler
Online Whisky and Spirits retailer with over 25 years of experience.
Website: www.masterofmalt.com
Follow Master of Malt on Titter: http://twitter.com/masterofmalt
Keep up to date with whisky and spirits news on the Master of Malt blog: www.masterofmalt.com/blog