This post is sponsored by Amazon and The Motherhood. All opinions are my own.
As a parent, one thing that I worry about, is setting a good example for my daughter. I want to lead by example and know deep down that I am teaching her everything she is going to need to navigate life as an adult. Lately, she has been wanting to make shopping decisions on her own. SCARY!!! She's smart, I trust her. But I remember how overwhelmed I got as a teen when my parents started to let me make my own shopping decisions. I want to make this a smooth transition for her (And me… Hey, dads get nervous too!). Parents can now teach teens smart shopping with Amazon.
Teach Teens Smart Shopping With Amazon
My family and I have been Amazon Prime members for the last few years. 80% of our online shopping is done on Amazon. It's a great service that has never let us down and my wife and I feel comfortable spending our hard earned money with them. There aren't too many companies that I can say that about! Amazon has created a new way for teens 13 through 17 years old to shop on Amazon. It only takes a few moments for both teens and parents to sign up.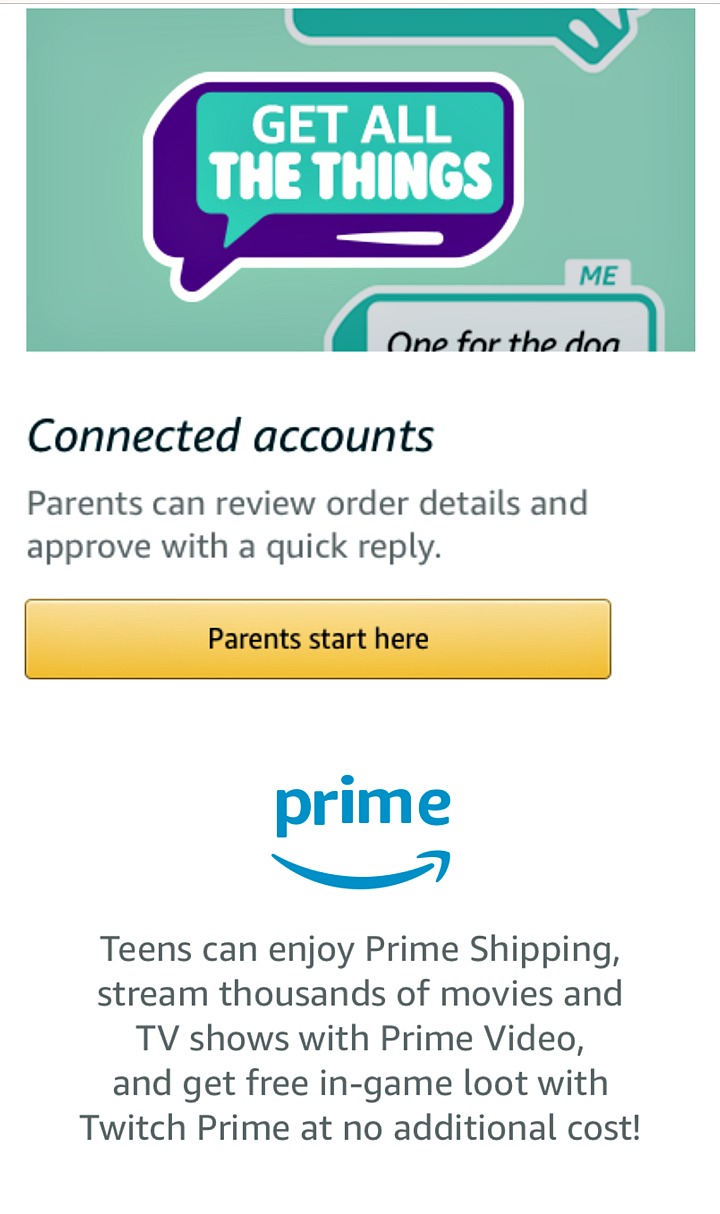 Your teen can send you an invitation through either SMS or email. You will choose a payment method and shipping address your teen can use when placing orders. When your teen receives an invite, they create their own login user name and password, and then download the Amazon App to start shopping. Go to amazon.com/forteens.
My daughter is a fantastic artist. All of her spare time is spent sketching and painting. The kid always has a pencil and her sketchbook with her. Over the years, she has started using more professional tools for her art. A lot of what she needs can't be found in a local store and if we do find it, the prices are INSANE! So, we have been ordering all of her supplies on Amazon. Most of the time, I have no idea what she needs. I just know that I want to encourage her in her passion.
This weekend she told me that she needed some new supplies. I decided to skip the Amazon approval step and set a spending limit of $100 for her. This allows her the freedom to get what she needs, but it also teaches her about budgeting.
She purchased a new watercolor set (her new passion) with a palette of 36 colors. New watercolor brushes that have special tips. Because she loves drawing anime characters, she bought a few sets of special skin tone and pigment pens. Then to finish it off, she decided she needed a new pair of earrings for school. I asked about the earrings and she reminded me she hadn't bought new ones since she started school. She's a good kid, so I said yes to the earrings.
I received an itemized notification for the order (and every order she makes) and my wife and I can cancel or return any item in accordance with Amazon's policies. We are also Prime members, so she can share certain Prime benefits like Free Two-Day Shipping, Prime Video and Twitch Prime at no additional cost. My daughter loves her new freedom and she gets product recommendations, order histories and lists tailored to her shopping history and interests.
My little girl is growing up too fast. But, it's nice to know that we are sharing this lesson together. I hope there will be many more to come!