Forks, tires, and other components are a significant part of your forklift's total cost of ownership (TCO). Using pattern parts can increase TCO by increasing maintenance costs and downtime.
For example, using the wrong tire size on a lift truck decreases fuel efficiency so use correct tire size from Boom & Bucket. Not replacing them in time can also reduce operator safety.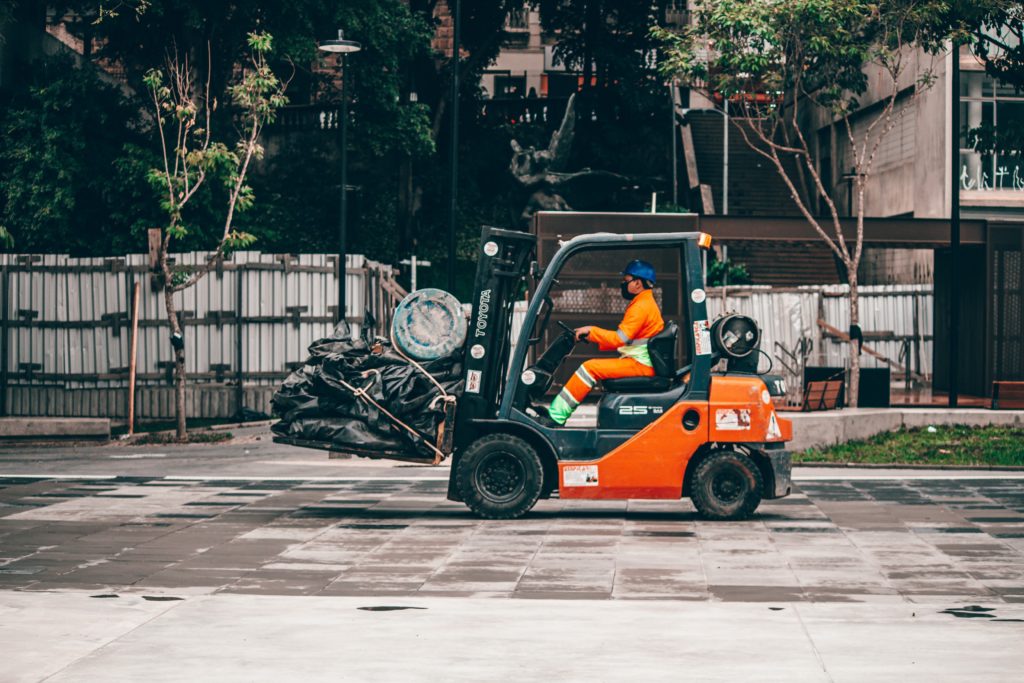 Forks
One of the most essential lift truck replacement parts is a set of forks. Damaged forks pose serious safety risks to operators and cause costly damage to products, equipment, and infrastructure.
Regular fork inspections are vital to prevent accidents and prolong fork life. Look for surface cracks, deterioration of the blade or shank (more than 10% loss reduces capacity), improper angle on the heel, and other signs of abuse.
Specialty forks can help you handle specific loads. Lumber forks feature wide blades that get underneath lumber and other bulky loads without damaging them. Block forks have an enlarged heel to lift concrete and cement blocks safely. Shaft-mounted forks mounted with open upper and lower hooks that can be quickly attached or removed from the carriage.
Electrical
Whether you operate electric or internal combustion (IC) forklifts, the quality of forklift parts, accessories, and more is critical to keeping your forklift operating safely and efficiently. Buying cheap or non-genuine parts is often not worth it and can cost more in repairs, downtime, and possibly even voiding the warranty on your forklift.
Durability is a value that's often overlooked when choosing forklift parts. But focusing on durability can save your business money in the long run. For example, OEM parts are crafted to fit a specific forklift model's specifications and undergo rigorous testing. This can mean they last longer than pattern or third-party parts, reducing repair costs and downtime. This is one reason why original equipment manufacturer parts should be the basis of your spare parts inventory.
Tires
Your forklift's tires are essential components and should be checked regularly to ensure your operations run smoothly and efficiently. Choosing the right tire for your application, environment, and operator's driving habits helps lengthen their lifespan. Spinning the tires, rapid starts and stops, excessive speed, and frequent driving on rough or abrasive surfaces all shorten tire life.
If a forklift's tires are missing chunks of rubber or tearing, it's time to replace them. This is a safety hazard, and your operators will feel uncomfortable operating the forklift. Make sure to replace all four tires at once to prevent uneven wear. Ask your operators to include checking for tire damage during pre-operation inspections. This can help catch issues before they cause severe damage and expensive downtime.
Brakes
Brakes are one of the most essential forklift parts, allowing operators to slow down and stop equipment for safely stacking and transporting loads. Without functioning brakes, operations can experience costly accidents and delays in productivity.
Maintaining proper braking performance requires keeping the brake pads fresh and checking for signs of wear. These include squeaking or grinding noises when braking, longer stopping distances, and pulsation in the brake pedal. In addition, companies can increase the longevity of brakes by having them blown out every 250 hours and having an extensive inspection done at 2,000 hours.
The condition of the brake rotors also plays an essential role in ensuring optimal braking performance. Consider choosing ventilated rotors, which have vanes between rotor surfaces to help with heat dissipation and cooling.
Hydraulics
Hydraulics is a system that uses pressurized fluid to power motion. The pressure multiplies force to allow machines to do more work for a given amount of effort. They operate through cylinders and hydraulic power units, from stopping vehicles through brake mechanisms to moving heavy machinery like cranes and construction equipment.
Regular inspections and maintenance of the hydraulic system are critical to keep it functioning correctly. Hydraulic leaks can be costly and disrupt operations. Checking for signs of hydraulic failures, such as leaking hydraulic lines or hydraulic oil not within the manufacturer's specifications, can help reduce downtime. Also, check the hydraulic line seals regularly and replace them when needed. This will prevent fluid from entering areas it should not be, such as the engine or other parts.