RV owners must perform maintenance regularly. It helps to stay ahead of any issues and saves money in the long run.
Ensure the smoke and carbon monoxide detectors have working batteries. Add lubricant to the slideouts to ensure that they work correctly.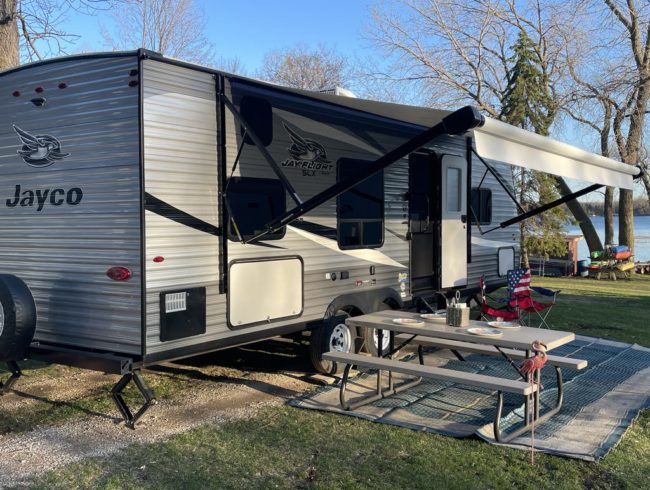 Check the Battery
Since an RV is part vehicle and part home, it has specific maintenance needs that are unique from a car or truck. There are some general RV maintenance tasks that all owners should do yearly.
This includes cleaning the battery terminals to remove dirt, rust, and oil buildup that can interfere with the connection between the battery and the vehicle's electrical system. Also, testing safety equipment like smoke and carbon monoxide detectors is essential yearly. This way, you'll be sure they work and don't have expired batteries.
Check the Tires
Your RV's tires are an essential part of your vehicle's roadworthiness. Make sure to check your equipment regularly for any signs of wear and tear. Additionally, ensure that they are correctly inflated to avoid any mishaps. Also, remember to clean and protect them from UV rays regularly.
It's also a good idea to regularly inspect the wheel lug nuts, as driving can cause them to loosen. Lubricate them as needed. This will prevent wheels from losing the nuts while traveling. This will also help to extend the life of your RV's tires.
Check the Roof
RVs are vulnerable to damage from the elements. Regularly inspect the roof and exterior for damage and promptly request RV Repair Service as needed. Also, it is a good idea to apply a sealant to the RV roof to protect it from water and UV damage. It is recommended to do this every year. Also, remember to close and latch the door and window seals while traveling. Slight shifts while driving can cause them to open, causing water leaks and other damage.
Check the Electrical System
When it comes to RV maintenance, some things must be done regularly to keep your vehicle in top shape. These tasks include a variety of checks that need to be completed inside and out.
The best way to ensure you stay on top of these tasks is by creating a schedule and sticking to it. You can do this by using an electronic calendar or simply using pen and paper.
It is also essential to make sure your RV is protected from the elements while it is in storage. Adding a water line with compressed air or RV antifreeze can prevent problems and damage.
Check the Air Conditioning
Window, roof, and door seals degrade over time and can let moisture seep into the RV. Examine them for signs of deterioration, cracks, or water stains and lubricate them as needed.
It's also essential to test all of the safety equipment in your RV, such as smoke, fire, and carbon monoxide detectors. It's good to do this regularly, especially after your RV has been in storage for a long time. This will ensure everything is still working as it should be.
Check the Heater
RV owners spend hours enjoying their vehicles, but it's essential to take the time to maintain it and consider the essential tips in your adventure. A little routine care will go a long way toward ensuring your vehicle lasts for years to come, and it will also help you keep safe on the road.
Apply a protective wax to the exterior surfaces of your RV and clean the interior thoroughly. Make sure to clean the roof and check that all seals are intact. If needed, reseal any leaky areas.
Check the Water Heater
It's essential to check RV jacks for damage. Dents, corroded metal, or twisted metal are signs of issues that need to be addressed. Also, make sure the jacks are appropriately reattached.
Inspect and replace filters regularly. The air, fuel, coolant, and hydraulic filters help keep your RV running smoothly. They also prevent overuse, resulting in premature wear. Clean the interior to ensure there are no food crumbs or other attractants for pests. Check all seals for damage and reseal as needed.
Check the Toilet
A dirty RV can be a breeding ground for rodents. It's essential to check under your RV for entry points, equipment damage, or signs of a rodent infestation before your next trip.
Also, make sure the water heater is shut off while driving. Slight shifts can cause dangerous propane leaks.
Lastly, lubricate hinges and locks regularly. Household oil can be used for this purpose. A semi-annual wax is a good idea, too. This protects your RV from harsh sun exposure and dirt accumulation.