Also known as the Irish Waterfall, this vape trick is easy to learn and looks excellent. Start by blowing a giant smoke ring, then a smaller one into the middle of it.
Then, please tap on the side of the smaller ring to watch it morph into a jellyfish-like shape. This great way to impress your friends and show off your skills!
I vape CBD and THCA. These tricks are fun for people who do vape. I am in know way telling you to start vaping… this is a lifestyle choice, nothing more.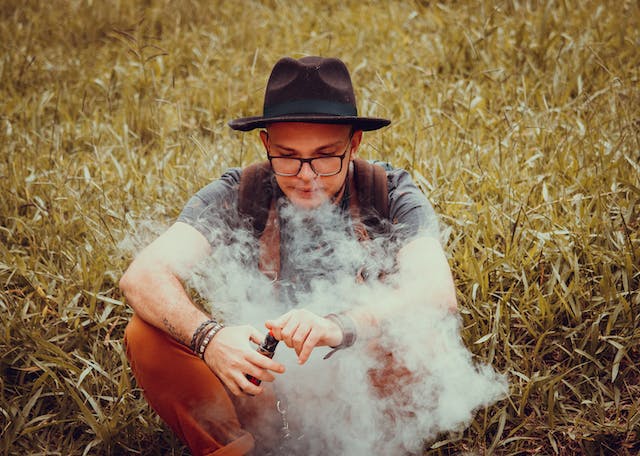 Ghost Inhale
The Ghost Inhale is a beginner-friendly vape trick that will impress onlookers. The first step is to puff vapor into your mouth without inhaling. Let it sit there briefly before slowly pushing it out with your tongue. Doing this slowly is essential because it helps the vapor keep its shape and prevents it from dispersing too quickly. Also, ensure you don't move too much when inhaling, as this can destroy the ghost shape.
The next step is to suck the vapor back in with your tongue. This will make it look like the ghost is flying back into your mouth. You can practice this trick alone or with a friend to improve your skills. You can use a chilled glass or cup with liquid for a more impressive version of the trick. This makes seeing the ghost easier and gives you a more dramatic effect. This trick is also more likely to work in windy weather since it's less prone to airflow.
French Inhale
The French Inhale is probably the most basic vape trick that you'll see in movies or online videos, and it's also one of the easiest to learn. The key is to inhale a long puff of vapor, but not past the back of your throat. Then, purse your lips to form a ring and exhale slowly in subtle bursts. You'll soon be able to blow rings that make your friends jealous.
Another great trick to try is the Tornado. This requires a bit more practice but is still reasonably easy to master. To do this, start by puffing a pool of low, heavy smoke on a flat surface and then flick your wrist. This will make the vapor swirl up into a tornado-like shape.
Lastly, we have the Jellyfish, a combination of Blowing O's and Vape Bending. First, do the steps needed to blow an O, then use your bending skills to push it in your desired direction. This is a great trick to do in front of a mirror to see how you're doing.
Bane Inhale
One of the easiest tricks to learn, this is ideal for beginners. All you need is a bit of practice to master this. To do it, inhale deeply and exhale vapor on a flat surface. When you do this, the smoke will snake across the surface, creating an excellent tornado-like effect.
You can also try the Tornado variation, which requires more precision. For this, you should place your hand in the middle of the smoke and do a karate kick to push it. The timing is essential here because the smoke will disintegrate if you do it wrong.
Another easy vape trick is the Bane Inhale, which looks complicated but straightforward. It's a French Inhale with the bonus that you have to grit your teeth as you pass the vapor through them, which gives it that cool ring-like look of the mask of the Batman villain. You can easily impress your friends with this one.
The Waterfall
The Waterfall, known as the Mushroom Cloud, is one of the most cool vape tricks. It's also pretty easy and can be performed by anyone. First, blow a large O shape of vapor. Then, move your hand behind the O and pull it out, creating a jellyfish-like effect.
This trick is also relatively easy to do but requires a bit of practice to get right. To perform it, you need a plastic bottle or a toilet paper roll dipped in soapy water to act as a bubble wand. First, take a long drag of vapor. Slowly exhale it into the wand, and watch the vapor float away!
This trick is more advanced than the other two. It's The Waterfall with the addition of your hand. To perform it, you need a flat surface, such as a glass or cup, to let the vapor flow. Then, you can use your hand to scoop the vapor upward, creating a tornado effect. This is one of the most impressive vape tricks and a great way to impress your friends.
Jellyfish
You may have seen someone doing a smoke trick on YouTube or in real life, and they indeed impressed you with their cool moves. While smokers can do some tricks with their weak cigarette smoke, vape users can boast of dense vapor that makes it easier for them to perform mind-blowing tricks.
Most of these tricks require the ability to inhale directly into your lungs, and for this, you need a mod with a coil configuration that allows you to achieve a high airflow with little resistance. In addition, you should choose a liquid with a higher VG to ensure the thick, milky vapor necessary for most of these tricks.
The Jellyfish is a simple trick that can impress people. First, you need to blow a thick O ring and then move your hand to the center of that ring, directing it where you want it. If you can do this, you will have a perfect jellyfish-like ring. The more practice you put into this trick, the better.