I have partnered with DynaTrap on this post. All opinions are my own.
Last summer, my family and I bought our first house. We bought it just in time for rainy season in South Florida. We have a nice size piece of property and almost every inch was covered with mosquitoes. Thankfully, I was introduced to DynaTrap and it's been in my backyard ever since. That's why I was incredibly honored when I was asked to host the #GuardYourYard Twitter Party with DynaTrap this Sunday at 3pm EST.
When I first got it, I really didn't understand how it worked. I just knew it worked. I put in different places around the house, but know matter where it is… my backyard is a mosquito free zone.
Here are 2 videos that show exactly what the DynaTrap does and how effective it is.
With the DynaTrap, my family, my friends, and I can enjoy the backyard and beautiful Florida evenings without the fear that we're going to be walking buffets for the duration. And less mosquitoes in the yard puts in less danger of contracting West Nile or Zika, which is causing some real fear across the globe.
If you don't really worry about mosquitoes in your area, here is a list of all the other pesky things that a DynaTrap will take care of.
DynaTrap had it's biggest year in 2016. It started out with an idea in John Rocha's mind and now they have thirty employees and our looking for 2017 to be huge for the company. That's why they have partnered with QVC and this Sunday they are going to be the Today's Special Value.
But Wait… There's More!!!
You can go to QVC online right now and get it for the same price that you will see on TV tomorrow!!
We'll be spreading the word tomorrow on Twitter with the #GuardYourYard Twitter Party With DynaTrap at 3pm EST. You don't have to RSVP, just show up and have a great time. Just make sure to follow the hosts @Rick_OntheRocks, @DaddySweeney and @DYNATRAP.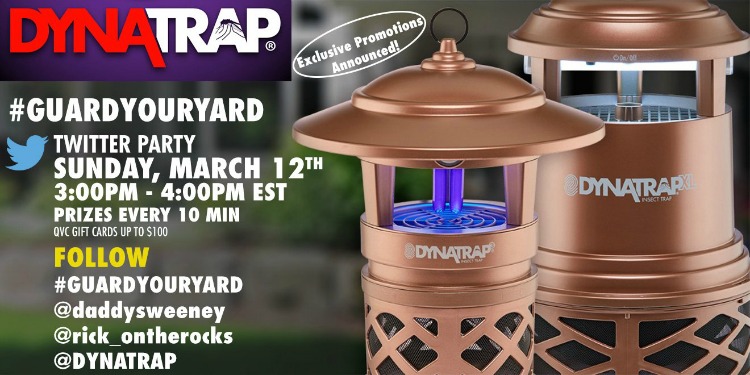 I'll See You There!!
Be sure to go to the DynaTrap Home Page and follow them on Facebook and Twitter.