I'm sharing #SausageFamily in my life as part of a Johnsonville sponsored series for Socialstarsâ"¢.
Johnsonville Meatballs are a tasty new twist on an old favorite. I'm a big fan of meatballs. Whether they're covered in red sauce on my spaghetti or slathered in a sweet and spicy coating for a game day food, meatballs are one of my favorite foods. Now they're even better. Johnsonville meatballs go the same route as the Johnsonville "burgers" I've talked about in the past. They change the game in a delicious new way. So, I decided to use them in one of my favorite recipes…Â Bourbon BBQ Meatballs.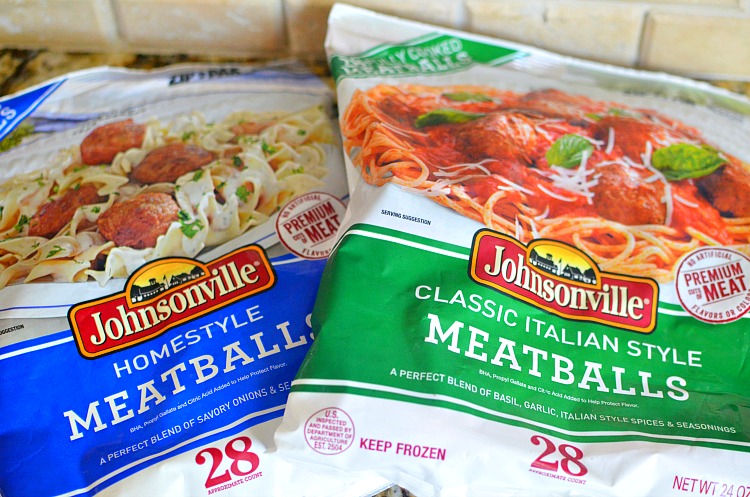 I love to make meatballs for a dinner or a game day snack, but what I don't love is the process. It's so involved, with all the ingredients and mixing and molding and trying to make sure they don't fall apart. It's a pain. With Johnsonville, I don't have to fool with any of that business. Their delicious meatballs come fully cooked and ready to go. All I have to do is put them in my favorite dish, and I'm golden.
Johnsonville Meatballs come fully cooked, which is incredibly convenient. They also come in three tasty flavors – Original Italian, Homestyle, and Three Cheesee. Like all Johnsonville products, they're made with premium cuts of pork, AND each bag has about 20 meatballs so there's plenty to go around.
Like I said, I'm not all about cooking as a way to spend my time. When I cook, I want something that tastes good and that doesn't take too long. That's the biggest selling point for me with Johnsonville meatballs. They make cooking fast. I've started using them in my family's favorite – spaghetti and meatballs – and they love it. It's really good. I love it because it's really fast. All I have to do is boil some noodles and heat up my favorite jarred sauce with the meatballs inside. Boom. Done. So far, I've used all three varieties, and they're all winners. My favorite is the Three Cheese. Those are so good topped with spaghetti sauce.
One of my favorite holiday recipes are Bourbon BBQ Meatballs and the Johnsonville Meatballs are perfect for it.
Bourbon BBQ Meatballs
Ingredients
1 package of Johnsonville Original Italian Meatballs
1 28oz bottle of sweet barbeque sauce
1/2 cup water
1/2 cup of apple cider vinegar
1/4 cup of bourbon
Instructions
Pour all the liquid into a slow cooker and stir.
Add meatballs.
Make sure all of the meatballs get coated.
Cook on low for 4 hours.
Enjoy!!