I recently purchased a Miller Lite Home Draft Keg from my local Total Wine (Total Wine is one of the best concepts man has ever created). I have to say I was a little leery of the promise of draft beer taste from what is primarily an over sized plastic beer bottle.
The instructions on the front, although not dummy proof, are fairly easy to follow. You have a carb and a pour spout on the front of a plastic shell that holds 5.7 liters of beer. When you are ready to pour you simply turn the carb to the left until you hear it start to click. Once it clicks, twist it just a few inches more and you should be ready for business.
R.O.T.R. readers , I have to give it to the people at Miller Lite, this is a great product. Not only is it designed to fit comfortably in a fridge, you can lug this bad boy anywhere. Tailgating, trips to the beach. that uncomfortable family get together we all have to attend at least once a year. It retails for about $18.99 and you get a nice amount of beer for your money. The only category where this product comes up a little short, much like my good friend Tom Cruise (Tom Cruise short joke #4…they just keep on coming!) is the claim of 30 days of freshness. I wouldn't let it sit for 30 days, but that's just me.
If your looking for a way to light up a gathering or you just have a long day of football ahead of you, pick up some Miller Lite Home Draft. You won't be disappointed, you might get a healthy buzz, but definitely not disappointed.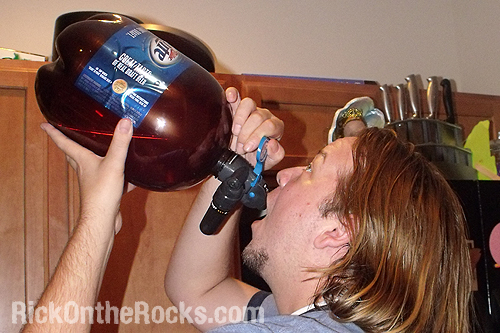 I'm too old for keg stands.