With St. Paddy's Day almost here, I thought it would be a great idea to include a traditional Irish Coffee recipe in my Classic Cocktails Series. This a great beverage, not only for St. Paddy's, but whenever your guests are looking for some thing to warm them up and put a pep in their step. It's booze and caffeine… What a great combination!
Here's a little story you can tell them while you're pouring drinks. It'll make you look like a pro mixologist. They always have the best stories!
"Different variations of coffee cocktails pre-date the now classic Irish coffee by at least 100 years. The original Irish coffee was invented and named by Joe Sheridan, a head chef in Foynes, County Limerick. The coffee was conceived after a group of American passengers disembarked from a long flight on a miserable winter evening in the 1940s. Sheridan added Irish whiskey to the coffee to warm the passengers up. After the passengers asked if they were being served Brazilian coffee, Sheridan told them it was Irish coffee."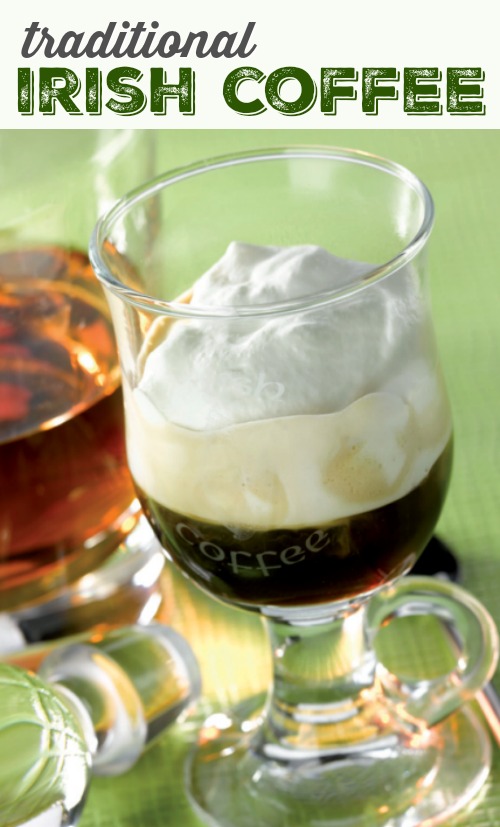 Irish Coffee, courtesy of KRUPSÂ www.krupsusa.com
Traditional Irish Coffee Recipe
Ingredients:
50 ml Espresso
1 tsp light brown sugar
20 ml whisky
20 ml single cream
Directions:
In a saucepan, heat the whisky then incorporate the light brown sugar in order to dissolve it.
Pour the mixture into a glass and pour the espresso on top.
Lightly whisk the cream and arrange it carefully on top of the drink.
Enjoy!
As always, please drink responsibly!