Last year I was introduced to some amazing ribs over the July 4th weekend!
To my pleasant surprise, again this year, I received a beautiful grilling and party package from the good people at Tony Roma Ribs. Plates, designer cups, decorations, some really great hats, party favors and every other thing you could think of to host one jammin' July 4th party.
Here's a brief description about why these ribs are so great!
Tony Roma's Ribs are pork ribs, cooked to delectable perfection, seasoned and served with the best barbecue sauce you've ever tasted. Prepared by pitmasters committed to their craft, who understand good barbecue begins with perfectly cooked and seasoned meats, Tony Roma's ribs are guaranteed to satisfy any barbecue craving.
You can find these delicious pork ribs in your grocer's refrigerated section, along with pulled pork and pulled chicken, perfect for those nights when you have a taste for your favorite barbecue, but don't have the time to either prepare a meal or head out to your favorite neighborhood rib joint. You get fall-off-the-bone tender, pre-cooked ribs and meats – including Tony Roma's famous baby back ribs – smothered in our signature Tony Roma's smoky, sweet and zesty sauces that are ready in 20 minutes! Simply heat and serve! 
Last year was the first time I had tried these ribs and I've been buying them ever since. They really are perfect for any occasion and (I'm not fibbing here), come out perfect EVERY time.
I Live With Two BBQ Snobs!
My wife and daughter are BBQ snobs! They won't eat just any ribs and in fact, will downright refuse to eat something that they feel isn't "real" BBQ. They were both elated when they found out we were having Tony Roma's Baby Back Ribs for another July 4th!
My daughter ate almost a whole rack and this was the aftermath! She's been wearing the hat since Saturday and has been building outfits around it.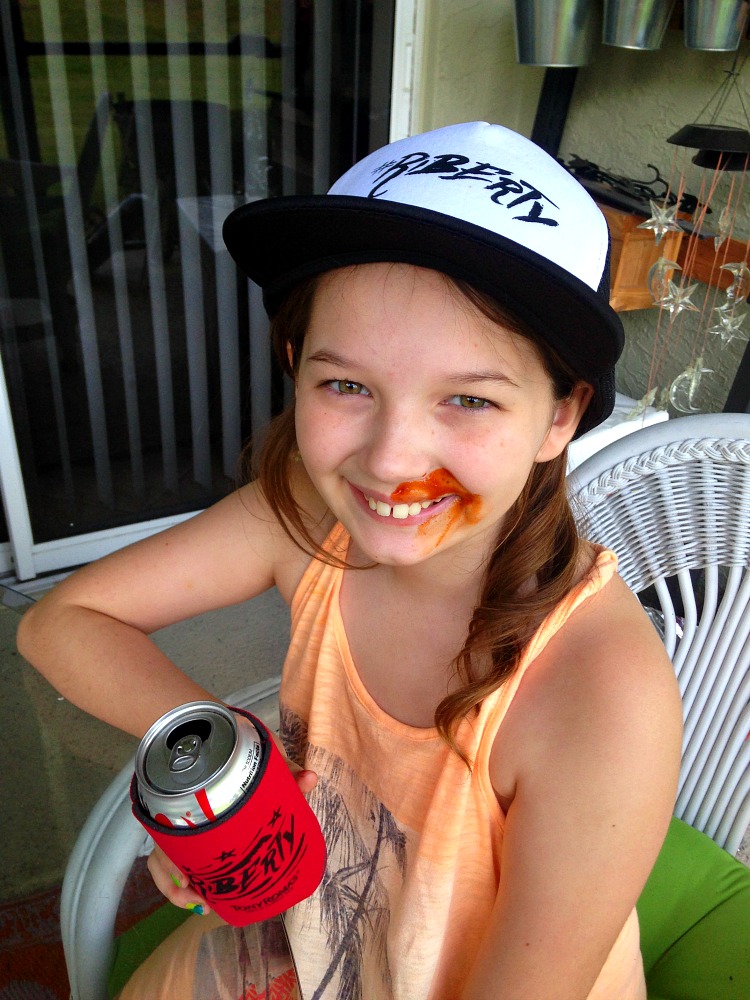 We had another wonderful 4th of July! Good times with family, good memories that we won't forget, good weather that helped remind us how wonderful summer can be and good food that ties all of it together. I'm proud to say that Tony Roma's Ribs have officially become a tradition in our family and I'm truly looking forward to next year's festivities!
When Is Your Family Going To Try Tony Roma's Ribs?