Kenmore Alfie is the new personal shopper that will help you buy everything you need in a fast, easy way from the comfort of your own home. This post was developed with Kenmore. All opinions are my own.
I'm not a big believer in stereotypes. I think people are just people and we all have stuff we either like or don't like. But, I will say, as a guy, one "stereotype" that I might fit into is the fact that I don't like shopping. I don't care for malls. I don't like browsing. You sure as heck won't find me lazily perusing a big box store on a lazy Sunday afternoon. If I need something from the store, I make a list and then I'm in and out like a ninja. You would never know that I was there!
But, my life has become really busy over the last 2 years and I can't always make it to the store when I need to. What I need is a personal shopper. Kenmore must have heard my prayers, because they have designed exactly what I need… Alfie. For all of you out there that understand where I'm coming from and just don't have time/hate shopping. Let Kenmore Alfie be your personal shopper!
Kenmore Alfie is easy to set up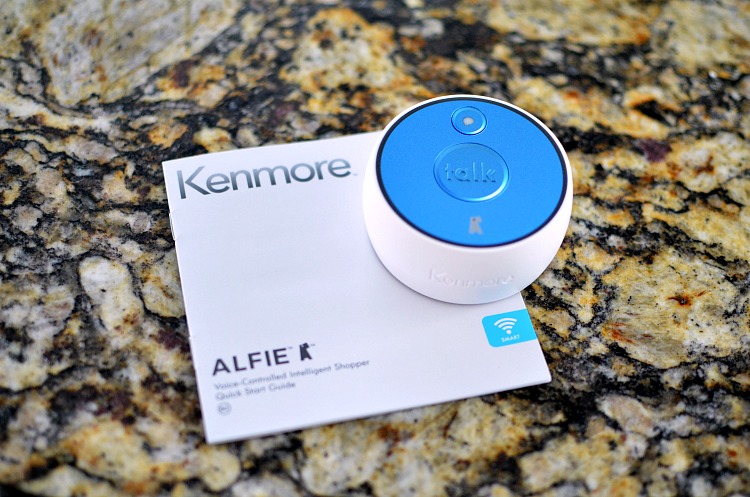 You don't need to spend an hour or two trying to hook it up. Just connect Alfie to your wifi, download the app (available on the App store and Google Play) and you are ready to shop. There are no hidden costs or mark-ups and no service fees. It's just that easy!
My wife recently bought me a new gas grill. I love it and have literally used it every day. I'm having a bit of a problem with the temperamental South Florida weather… It's making the outside of my grill look like hell! I decided to put Alfie to work immediately. I measured my grill, gave Alfie the specific things I was looking for and Biggity Bam, my personal shopper came up with EXACTLY what I was looking for.
I told Alfie that I wanted to order that grill cover. It checked my payment method, address and gave me an expected delivery date. Then I said, Alfie, Fetch and that was it. I can feel the holidays breathing down my neck and usually the thought of shopping during this time gives me panic attacks that send me into the fetal position. But this year I've got my own personal shopper that's going to make it easy. The more you use Alfie the smarter it gets. It will start to realize your ordering patterns, price points, groceries you get on a weekly basis. This is something that everyone could use in their home.
If you want special light bulbs, a new tablet, an ugly Christmas sweater, size 11 tennis shoes… Alfie will find it for you, order it and have it shipped. The real life personal shoppers that help power Alfie will scour the internet for whatever you need and get it to you. Shop for your groceries item by item. You can schedule reorders, build a shopping list and Alfie will learn what you need the more you use it. Perishable grocery delivery and restaurant delivery is available in select areas. 
The Kenmore Alfie is $49.99, but you can pick up a brand new Kenmore Alfie at Sears.com before the holidays or as a gift for a steal at $29.99.
Check out the Kenmore Alfie Blog for more information.