I have partnered with Life of Dad and Barilla Pasta for this promotion featuring a delicious Pancetta and Mushroom Pasta recipe. All opinions are my own.
Anyone that has kids will tell you… "I'd love to take the family out to a fancy dinner." Once school starts, it just doesn't happen. One kid has drama; the other one has soccer— How do you get everyone together for a meal that is amazing?  It doesn't take FOREVER!! Get some Barilla® Blue Box pasta, Barilla sauce and some fresh ingredients. Let Barilla Help You Cook Your Family A Gourmet Meal!
 
Let Barilla Help You Cook Your Family A Gourmet Meal
I do most of the cooking in my family. Not that my wife can't cook, she's a great cook. But she knows that I LOVE doing it! This summer we went to Europe and I came back with all kinds of recipe ideas. Over the summer I made meals that took up to two hours to prepare. Wonderful gourmet meals. Now that the school year has started, I have less time to cook. So, I decided to figure out how to make some gourmet meals in less than 30 minutes.
One of my newest recipes— Pancetta and Mushroom Pasta —was inspired by Barilla® Blue Box Penne Pasta and Barilla Garlic Alfredo Sauce. I love using Barilla Pasta & Sauces because they help me make Italian-inspired meals that are bursting with taste, texture, and flavors to make every dinner meaningful. Barilla® Blue Box classic line offers endless variety with 38 pasta cuts and they also have 14 sauce varieties. All of the Barilla® Blue Box and Barilla Sauce meal combinations help me during this busy back-to-school time. I don't spend my entire evening cooking, and that leaves me more time with my family.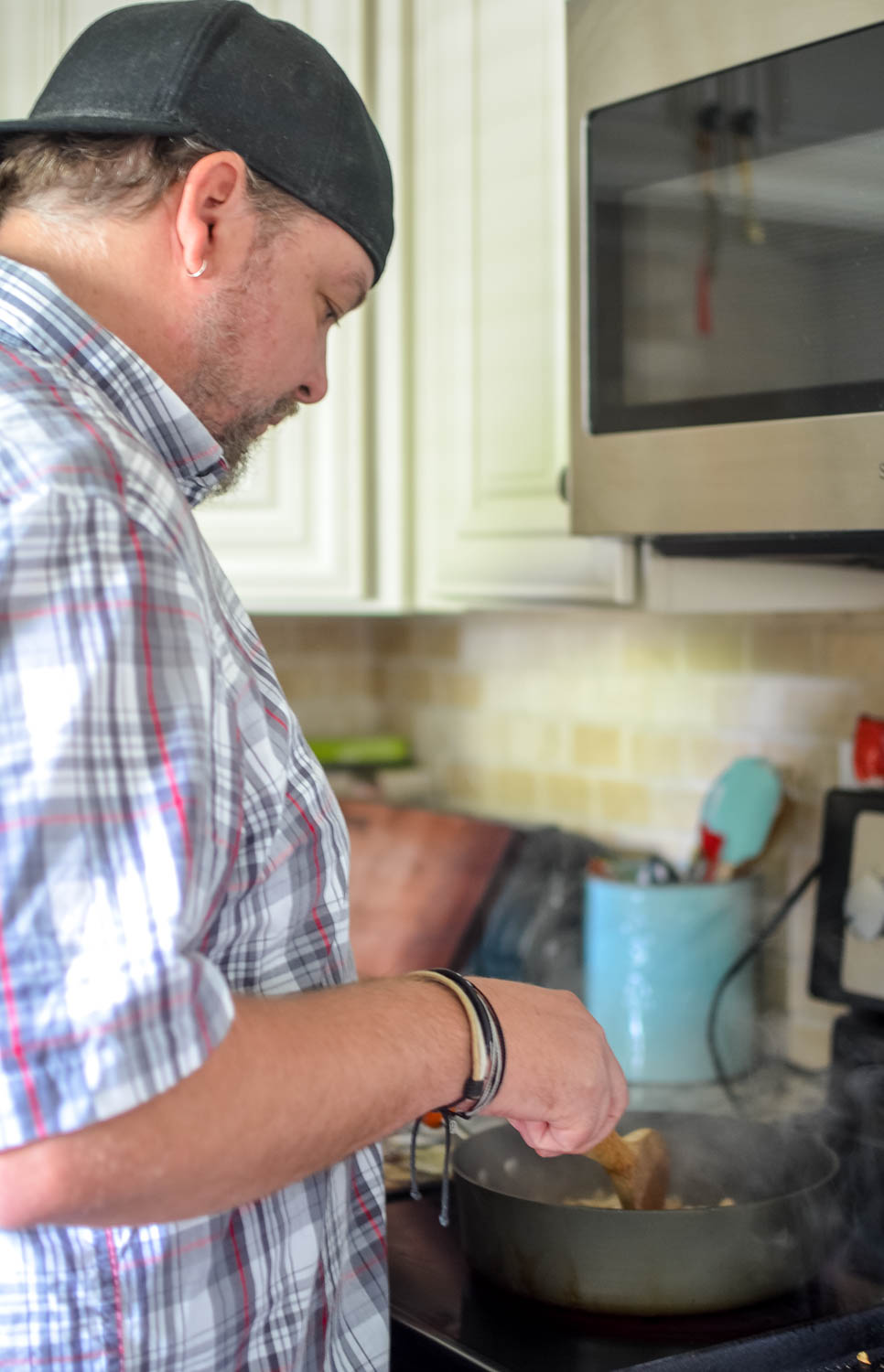 Here is a new recipe that we love. I hope your family will enjoy it, too.
Pancetta and Mushroom Pasta Recipe
Pancetta and Mushroom Pasta
Ingredients
Two 8.5 ounce packages of Barilla Pasta Penne
14.5-ounce jar of Barilla Garlic Alfredo Sauce
4-ounce package of Diced Pancetta
8 ounces of Sliced Mushrooms
Shaved Asiago Cheese
Pepper
Instructions
Cook mushrooms on medium high until they start to shrink. Then set them aside.
In the same saucepan, cook pancetta on medium-high until crispy.
Add mushrooms back into the pan with the pancetta and then pour in a jar of Barilla Garlic Alfredo Sauce. Stir.
Reduce heat to medium-low.
Cook the Barilla Pasta Penne for 60 seconds.
Toss the sauce and pasta. Then plate.
Top with pepper and shaved asiago.
Enjoy!
For more great back-to-school recipes check out the Barilla website and follow them on Facebook, Twitter, and Instagram. Also, follow the hashtag #InTheKitchenWithDad to see all the great stories my friends are sharing.