There is some language in this post. I usually try to keep things PG. This is a bit more adult and I hope you appreciate why.
I was part of the last big TV generation. There were certain nights in my household when a particular program came on… and everything stopped. We didn't have 1000 channels and we weren't streaming anything. We would watch reruns of Columbo, Mom and Dad liked Magnum P.I. and then there was Happy Days… a sweet, nostalgic look at the late 50's that had a multitude of colorful characters. One episode I remember very vividly was the introduction of a alien named Mork from Ork.
Robin Williams… I Miss You
Yes, I know what you're thinking, that makes absolutely no sense at all. You're right! It sounds like the DUMBEST idea ever for a show – EVER! It was the guy playing Mork that literally jumped out of the television set. No one knew who "That Guy" was. We later came to know him as Robin Williams.
I was about six when I saw that episode and I still remember how much he made my family laugh. Later, my parents decided they were going to watch one of his HBO comedy specials and got the shock of a lifetime. Mork had a filthy mouth!
Williams had a command of swear words that damn near borders on poetic. My college acting coach called him, "A true vulgarian" and that was meant as a real compliment. His manic delivery, seemingly endless characters and crazy voices that crawled out of him were nothing short of genius. After seeing his visceral performances, most audience members were ready for a nap.
"The World According To Garp" was his first film and it left most people scratching their head. Why would this gifted comedian pick such a quirky and dark film to be his first starring vehicle? It was his way of letting people know, I'm more than Mork or the guy who does funny voices, I'm an artist. It was that duality of light and dark that followed Robin Williams in more way than one throughout his entire life.
It wasn't until "Good Morning, Vietnam" that he found not only box office success, but was finally nominated for an Oscar.
A string of hits followed that most actors would trade their souls for. Bouncing between family fare such as "Jumanji" and darker,more dramatic fare such as "The Fisher King" (A classic that needs to be rediscovered by the younger generation) he showed a true gift for balancing both. In 1998 he won an Oscar for Best Supporting Actor in Gus Van Sant's "Good Will Hunting".
This is my favorite performance because it seems like the closest that any of us came to seeing the "Real" Robin Williams. The character was intelligent, funny, dark, sad and strong. If not strong for himself, he could be strong for other people.
There's a scene where Matt Damon keeps verbally pushing during a therapy session and he makes the mistake of bringing up Williams' dead wife. Robin Williams whistles and then puts his hand around Damon's throat and informs him if he ever brings that subject up again, "I will end you!". Up until that moment you knew there was a sadness and rage that was being masked by his quick wit. Every time I watch the movie, I wait for the whistle.
It seems like most brilliant comedians are chased by demons, whether it be abuse, insecurity, loneliness or just straight up depression. It's too bad we have to lose such an amazing artist to something so tragic.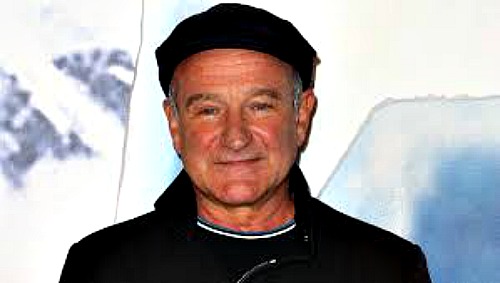 I never had the pleasure of meeting him, but maybe in the next life we'll get the chance to know each other.
I'll wait for the whistle.