I walked outside this morning around 7 am and felt a little nip in the air. I live in South Florida, so by nip in the air, I mean 67 degrees. But, I'll take what I can get. One thing that I love to cook during the fall months are chicken wings! They're perfect for a snack, dinner, the big game, entertaining, in the bathtub (Don't judge!) and just about any other kind of occasion. When I get in the kitchen, I love to experiment and wings are a great test subject. I was feeling something sweet, spicy and with just a hint of garlic. So, I came up with an easy Sriracha Honey Garlic Wings Recipe.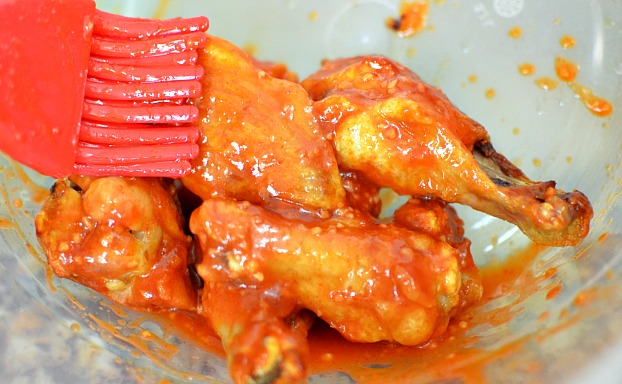 I'm into anything spicy, but sometimes I like to balance out the heat with a little sweet and savory. Lately, I've cut out a lot of carbs and especially sugar. I want to be able to eat healthy, but still enjoy the foods that I really like. When you cut out the sugar, you realize that you are limited in the sweeteners that will work for baking. I've used honey and agave, I just think they still have a lot of calories and sugar that I don't need. So, with this recipe I am trying Truvia® Nectar.
Truvia® Nectar is the latest product in the Truvia® line of great-tasting sweeteners made with stevia leaf extract.
Hot and cold beverages
Oatmeal
Yogurt
Fruit
Baked goods
Sauces and dressings
My wings turned out amazing!
Sriracha Honey Garlic Wings
Ingredients:
3lbs. of thawed chicken wings
1/4 cup Truvia® Nectar
1/2 cup of Sriracha
1 tbsp garlic (more to taste)
Instructions:
Preheat oven to 450ºF.
Line a baking sheet with non-stick aluminum foil.
Pat chicken wings dry with paper towels and lay wings in a single layer.
Bake wings for 20 minutes.
Flip wings and bake for an additional 25 minutes or until crispy.
Combine Truvía® Nectar, Sriracha and garlic in a large bowl.
Gently toss wings in sauce until completely coated.
Enjoy!