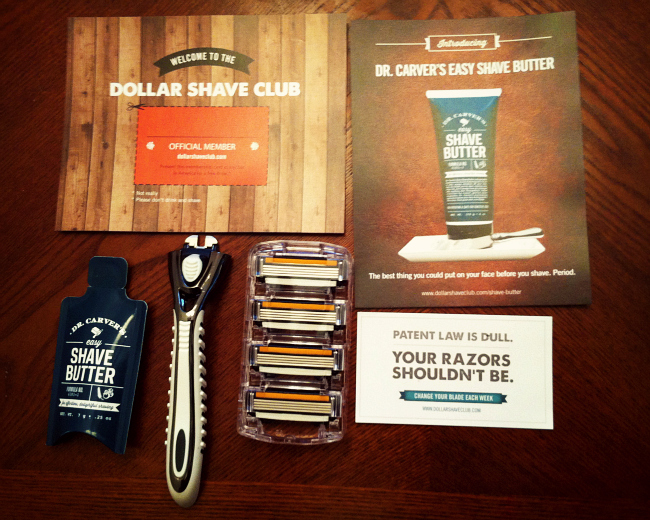 I'm usually leery of any kind of monthly program. Service is usually crappy and totally unreliable. I've found the exception to the rule, in a BIG way– Dollar Shave Club is absolutely incredible!
My wife starting telling me about it on a recent vacation and I kept blowing it off. I have a very nice, manicured beard and it's an investment of time to do that kind of "manscaping". The reason I grew the beard was because of two things…
1. When I'm clean shaven, I have a "baby" face. What that translates for a man of forty years old is this: I still get carded every time the liquor store changes employees and every twenty-five year old assumes I am up-to-date on all the new Red Bull flavors and where to buy the newest Mumford and Sons EP on vinyl ( I don't!!).
2. When I shave in the morning, by the time 5 pm roles around I look like a combination of an early nineties George Michael and every edgy "Private Investigator with a dark past" on T.V.
Dollar Shave Club Review
My wife went ahead and signed me up for "The 4x" aka "Lover's Blade". For $6 a month (that even includes shipping and handling) I receive 4 cartridges a month, and the first month you also receive a razor handle and a free sample of Dr. Carver's Shave Butter. The blade cartridges I received have 4 stainless steel blades with a wide open back for easy rinsing. The razors are high quality and you really get a great, close shave.
They have 3 different blade packages to choose from so go to www.dollarshaveclub.com and see which one is right for you. It's a great product and it's gonna save you a couple hundred dollars a year. You can't beat that!!!