This post is sponsored by Best Buy. All opinions and love of the LG SUPER UHD TV are my own.
I've been waiting on a new TV for awhile. My wife kept making me hold off, because we had bought two new TV's over the course of 18 months. The problem was… I didn't like either of them. They were WAY BELOW my expectations. I recently got the go ahead to upgrade and I am crushing on my new TV. The LG SUPER UHD TV makes other Smart TV's look dumb.
The LG SUPER UHD TV Makes Other Smart TV's Look Dumb
I wanted a state of the art, knock your socks off, sit in awe for hours kind of television. The LG SUPER UHD TV is a dream come true for me. The second I plugged it in and started to set it up, I knew I had made the right decision. The new LG SUPER UHD TV with AI (Artificial Intelligence) ThinQ® will quickly become the center for your smart home. It uses Intelligent Voice control. You simply speak into the LG Magic Remote to pull up family photos, control light settings, check the weather and much, much more.
The LG SUPER UHD TV with AI (Artificial Intelligence) ThinQ® has the Google Assistant built in, so you can control compatible smart home devices just by using your voice. It will create a center for your smart home and beyond. It works with Google Home and Amazon Alexa devices. (Google Home and Amazon Alexa devices sold separately)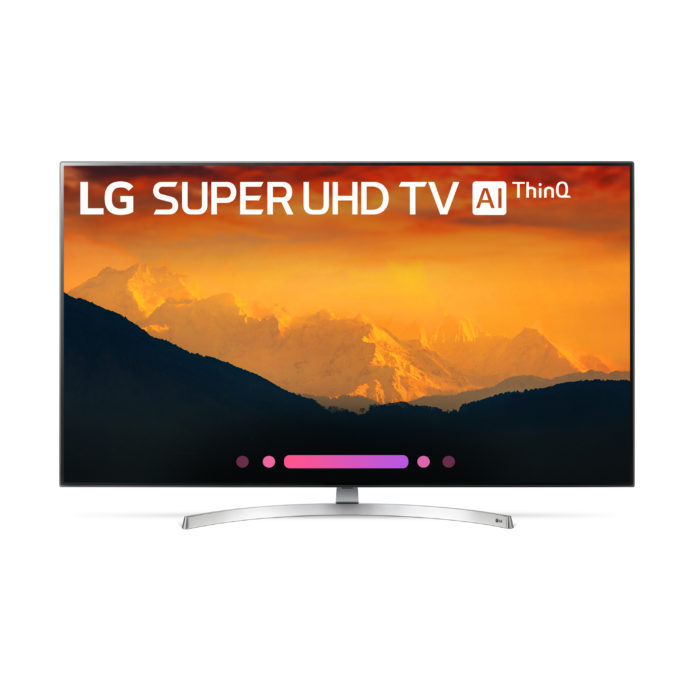 Here are a few of the things that make the LG SUPER UHD TV special.
α7 (Alpha7) Intelligent Processor
The α7 Intelligent Processor provides a more lifelike picture with superior depth, sharpness, and remarkably accurate color. Previously available only on LG OLED TV, α7 is now inside LG SUPER UHD TVs with AI ThinQ, enhancing 4K HDR content for a truly cinematic experience.
Full array local dimming results in better picture quality. This more precise local dimming control enhances the contrast and maintains deep black levels while reducing light bleed.
Nano Cell™ Display has an expanded color gamut to deliver truer colors. It also absorbs unwanted light and reduces reflectivity to assure deeper black levels, even at a wide viewing angle.
LG SUPER UHD TV with AI ThinQ features comprehensive support of major high dynamic range formats including Dolby Vision™ HDR from the cinema, as well as HDR10 and HLG, both with LG's advanced tone-mapping technology that provides scene-by-scene optimization
Picture quality becomes even more dynamic with Ultra Luminance Pro, which uses smart power distribution technology to boost peak brightness even higher. This increases the overall contrast ratio to give movies and TV shows a bold appearance not previously possible.
The LG SUPER UHD TV is AMAZING!!! It's the kind of TV that is built for people who love TV's.
Make Sure To Go To Best Buy And Pick Up Your LG SUPER UHD TV!!