A few months ago, "Mom on the Rocks', brought home some fancy new lotion. It wasn't in a traditional bottle or pump. It was in a spray bottle! I thought that was such a cool idea. Unfortunately it was geared more toward women; I don't mind smelling pretty, but sometimes you have to draw the line.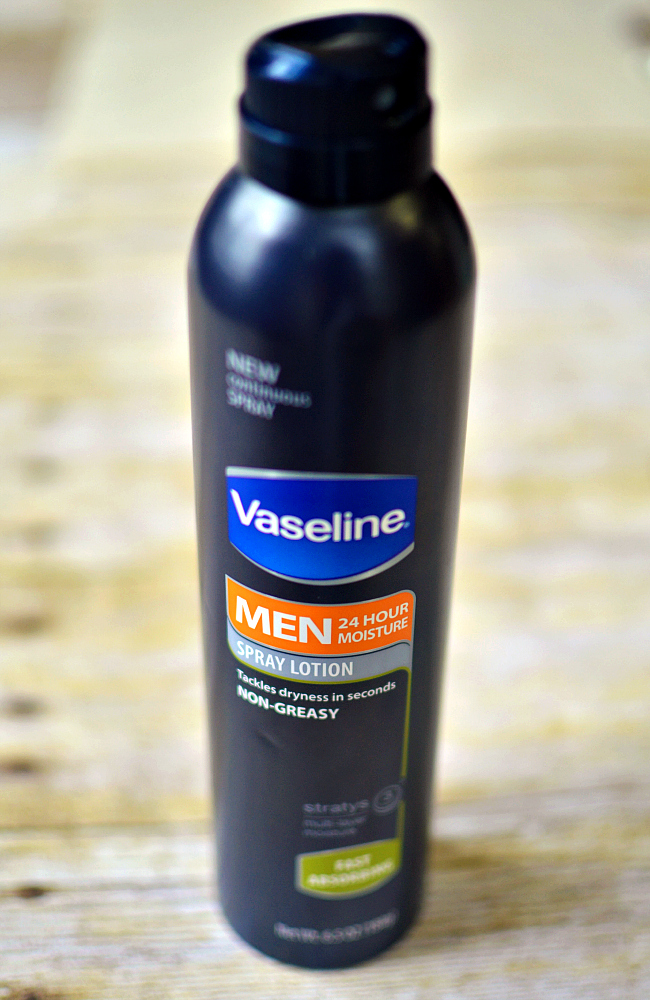 To my great surprise, I didn't have to wait too long for someone to come out with a spray lotion for men. Vaseline Men Spray Lotion has just hit the market and it is so much better than a traditional bottle of lotion. I go through quite a bit of lotion because I have very dry skin. The other problem I run into is the fact  that most lotions on the shelves tend to be really greasy or they don't go on very evenly. If you've ever used spray on sunscreen, it works almost exactly the same.
There's a twist-lock top that's great for traveling, which I do quite a bit of. One nice feature is that when you spray it on, the lotion dispenses quickly and evenly. Then it absorbs almost instantly without being greasy or sticky. There's a manly scent as well— so you don't have to worry about smelling like your wife's "Flavor of the Month" lotion.
Being a Dad, I'm constantly on the go, Vaseline Men Spray Lotion is perfect for me. They have two different formulas, Fast Absorbing (My personal favorite!) or Fast Cooling. Both are available at food, drug and mass retailers everywhere.
A sample was provided. All opinions are my own.