The family and I got invited on a short pre-Easter cruise aboard the lovely Carnival Sunshine this week. I love this ship. We had actually taken a 9-day European cruise on the Sunshine last summer and had an absolute blast. I was really excited when I found out they were bringing the ship over to Port Canaveral, Florida — it's a brisk 3 hour drive from us and worth every minute.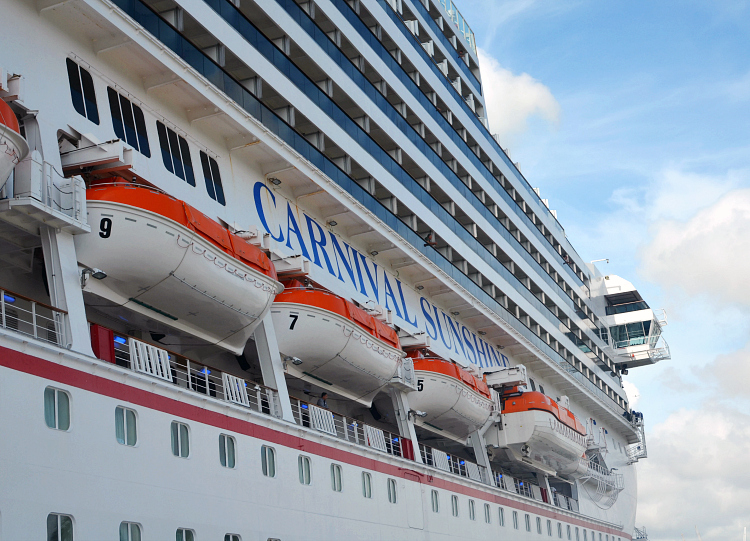 One of the big draws of this ship is the restaurant and bar choices. Eclectic and original fare set the Sunshine apart from many of the ships at sea. Here, in no particular order, are my top 5 favorite restaurants and bars on the Carnival Sunshine.
1. Guy's Burger Joint – Once we embarked and got the luggage into the room, this was my daughters' and I first stop. Everyone seems to have an opinion about the famous chef theses days… I love him. I watch his shows, I own his cook books and I really dig his burgers. When you get into line there is a short menu of basic burgers topped with BBQ sauce, cheese, onion rings and even pulled pork. Once you make your choice, they began to build your burger on the grill. They don't use pre made patties, they take a fresh ball of hamburger and press it on the grill. It seals in the juices and gives a great crust to the burger. After they hand you your tasty concoction, you turn around and are presented with a toppings bar that is wonderfully overwhelming. Truly one of the best burgers at sea!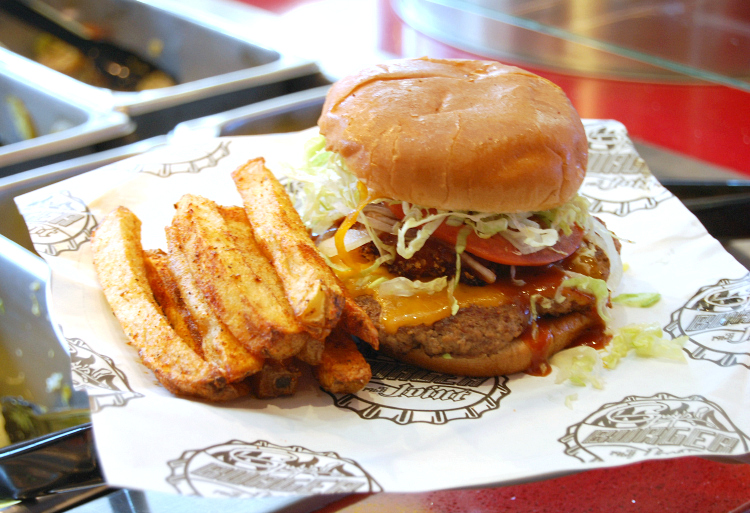 2. Ji Ji. Asian Kitchen – I've been raving about this restaurant to friends since the summer. "Ji Ji" loosely translated means "lucky lucky", and oh boy are you "lucky lucky" when you walk in this place. The menu is set up to take you on a tour of Asia through its different regional cuisines. There's a small fee per person ($12), but it's SO worth it. The wait staff is engaging and helpful, they really set the tone for the entire experience. Now, hear me when I say this, order the Slow-Braised Pork Belly. I'm serious, do not walk out of that restaurant without allowing yourself this heavenly creation. Rich, sweet … a flavor explosion that melts in your mouth. It is one of the best appetizers I have ever had at any restaurant, and I've been eating my way around the world the last couple of years. Also, the Singapore Chili Shrimp entrée, which is a street food staple, is amazing. As soon as you step foot on this ship, go and make reservations. One of the best eating experiences I've ever had.
3. RedFrog Pub – If you like a laid back atmosphere with big glasses of tropical concoctions, really cold beer and a guy in the corner strumming a guitar, this is your joint. Last summer when we were on the Sunshine, I fell in love with this place. I had always wanted to be on a ship and have a bar that just felt, comfortable. Being from South Florida, the RedFrog has that Key West, come as you are, sing along with the guitar player kind of vibe that I love. They also have one of the best beers I've tried in the last 2 years. ThirstyFrog Red is a private-label brew that can only be found at the RedFrog Pub. A beautiful red hue, it is both creamy and refreshing at the same time. If they would let me buy a keg and take it off the ship, I would, I might take 2!!!
4. The Alchemy Bar – Over the last 5 years, mixology has become a hot button word in the service industry. Throwing some mint or basil in a glass makes a drink special and the person making it a "mixologist". Wrong, Wrong, Wrong! The art of mixology has existed for almost 200 years. You have to understand flavor profiles, ingredients and most importantly, ask your bar guests, "What do you like"? The Alchemy Bar is a throwback to the bar pharmacy. Drinks with flavors and elixirs that seem so wrong, but taste so right. The bartenders have a true understanding of their craft and execute it with style and confidence. It's a little more quiet and intimate, this is where we ended up almost every night for after dinner drinks and good conversation. I'm a big fan of the Caribbean Manhattan, but here's a great tip, if you don't see something that strikes your fancy, talk to the bartender and they will whip you up something that will more than please your palette.
5. Bonsai Sushi – My family and I are big fans of sushi. My daughter has been enamored with it since she was about 4 years old and would rather eat a few rolls than anything in the world. Bonsai Sushi is a great alternative for a dinner at sea. Cozy and relaxed, their rolls are VERY fresh, flavorful and inexpensive. I'm talking $4 – $7 a roll inexpensive. Throw in some great service and this is one of the hidden gems on the Carnival Sunshine.
My family and I always have a great time on our cruises, but the Carnival Sunshine is truly a special experience. It's now at the Port of Canaveral and I encourage you to take your family. The great people at Carnival will make sure that you'll want to sail with them again,very soon!!
Special thanks to Carnival Cruise Lines for inviting my family on the Carnival Sunshine from Port Canaveral. All opinions are my own.