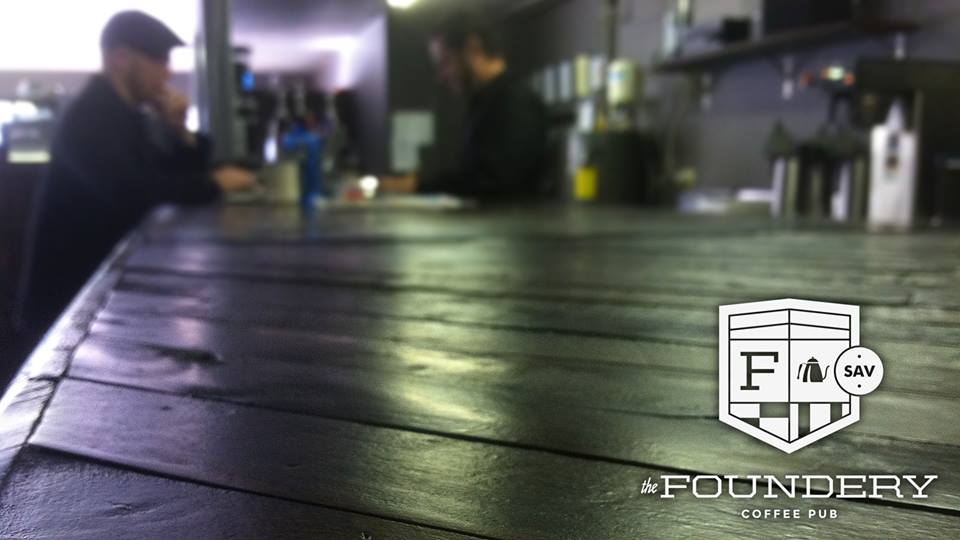 If you find yourself traveling anywhere near Savannah, Georgia, do yourself a favor and swing by one of the coolest coffee pubs you've never seen… The Foundery. The brain child of Kevin Veitinger (known as Rev Kev to most of his community) was only recently opened, but is already building a reputation as a must see destination in the Savannah area.
Rev Kev also is an ordained Methodist minister, a soccer coach, a dad and a drummer in a punk rock band!
Every great pub, whether they serve coffee or beer, needs a character that brings everything together. I've known Kevin for 21 years. I've played in bands with him… we worked together at the same job for 4 years… he's truly a good friend. I've watched him grow up into the man he is today. Always one to look at things a little different, I was so proud of him when The Foundery, at last, opened its doors.
Not only do they serve some of the best and most creative coffee/espresso/tea drinks you've ever had, they also are reaching out to their neighbors/community in a amazing way. The Foundery also serves as a Methodist church, who welcomes ALL people. It's a conservatory where visual and performing arts events are being cultivated through a community of creative expression. Kevin's vision was to have a "public house", hence the word pub, that would serve the community on every level. I'm all about "Game Nights", where they a lay out a bunch of different board games and encourage some healthy competition… Let's get our Jenga on!!
A man of principal and vision is hard to find these days, those two words only act as an introduction to my friend Rev Kev. So, the next time you're close to the beautiful city of Savannah make some time to go see Kevin and the great staff at The Foundery. Not only will you get one of the best cappuccinos, you'll also get to experience a community of people who are giving back every way they can. That my readers, is truly the pick me up I've been looking for.
The Foundery Coffee Pub
1313 Habersham
Savannah, Georgia 31401
(912) 777-6002