This post is sponsored by Amazon Video. All opinions are my own.
During the dog days of summer, it can be difficult to find a new TV show that is worth your time. It's even harder to find one that the entire family will enjoy. This week I had the opportunity to screen a new Amazon series and my family is loving Niko and the Sword of Light.
Niko and the Sword of Light
Here is a brief synopsis.
"Niko and the Sword of Light follows 10-year-old Niko, the last of his kind in a strange, fantastical world, as he embarks on an epic quest to defeat the darkness and bring the light back to his land. Armed with his magic sword, brave Niko journeys to the Cursed Volcano, making new friends and powerful foes along the way, all while uncovering secrets about his mysterious past. Niko and the Sword of Light features the voice talent of Tom Kenny (SpongeBob SquarePants), Andre Robinson (Doc McStuffins), Steve Blum (Star Wars: Rebels), Kevin Michael Richardson (The Penguins of Madagascar), Jim Cummings (Shrek), and Kari Wahlgren (Kung Fu Panda: Legends of Awesomeness). Based on the motion graphic comic by Imaginism Studios, Inc., the studio behind character and concept designs for Tim Burton's Alice in Wonderland and Men in Black 3; and Studio NX (The Carrot and Rabbit Show, Tree Fu Tom), Niko and the Sword of Light is animated by Titmouse (Motorcity, Metalocalpyse) and executive produced by Rob Hoegee (Generator Rex, Teen Titans), who also serves as showrunner."
My thirteen-year-old daughter and I had a blast watching Niko. Some animated series can be a little out there and clearly designed to find and entertain a small cult audience. Niko is totally different. It's very grand in scope and his quest plays out in an exciting, well written arc from episode to episode. It's perfect for summer binging because missing an episode would be like skipping a chapter in a book.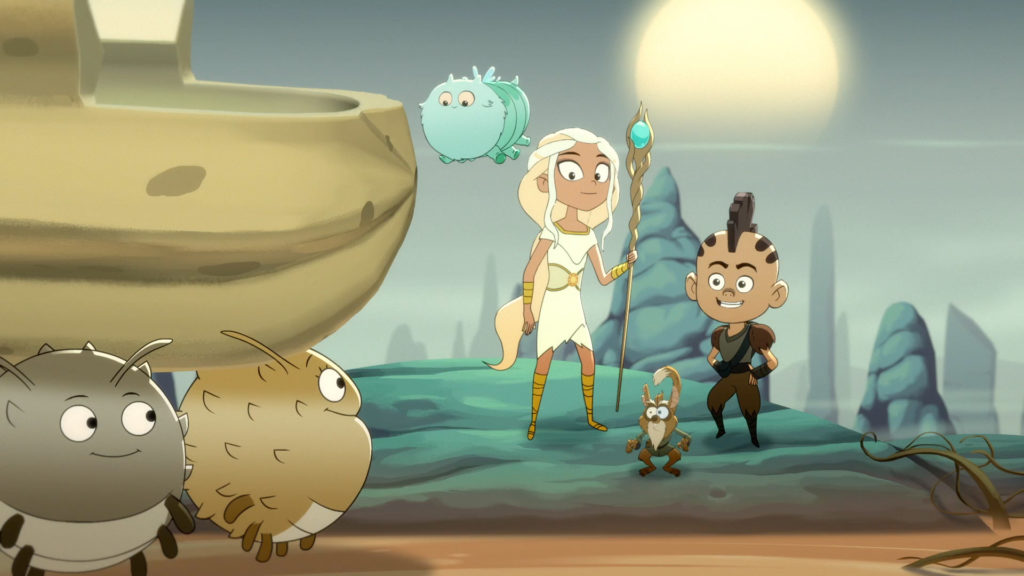 My daughter and I are both big fans of executive producer Rob Hoegee and the show Teen Titans. But, I feel like this is the best show that he has done so far. Niko and the Sword of Light is funny, quirky and just a little crazy. The animation is textured and has a depth that I haven't seen in a lot of animated series. It leaps off the television as a very realized world that draws you in from Episode 1.
Don't worry about hitting the Multiplex this weekend. Stay in and introduce the family to Niko… He's the summer blockbuster that you've been waiting for.