With the holidays here, my Netflix watching goes into hyper drive. After braving Black Friday, putting up the tree, taking down the decorations out of the attic, putting the decorations up… You get the picture. I'm ready to crack open a carton of Egg Nog, put my fuzzy socked feet up and just relax. Here are some of the movies/shows the you and the elves need to watch on Netflix in December.
What I'll be Watching on Netflix in December
The Jungle Book (Nov. 30) – Raised by a family of wolves since birth, Mowgli (Neel Sethi) must leave the only home he's ever known when the fearsome tiger Shere Khan (Idris Elba) unleashes his mighty roar. Guided by a no-nonsense panther (Ben Kingsley) and a free-spirited bear (Bill Murray), the young boy meets an array of jungle animals, including a slithery python and a smooth-talking ape. Along the way, Mowgli learns valuable life lessons as his epic journey of self-discovery leads to fun and adventure. Director Jon Favreau creates a completely immersive movie that literally makes you feel like you have been dropped in the jungle. Great for the whole family!
The Angry Birds Movie (Dec. 1) – Flightless birds lead a mostly happy existence, except for Red (Jason Sudeikis), who just can't get past the daily annoyances of life. His temperament leads him to anger management class, where he meets fellow misfits Chuck (Josh Gad) and Bomb. Red becomes even more agitated when his feathered brethren welcome green pigs to their island paradise. As the swine begin to get under his skin, Red joins forces with Chuck and Bomb to investigate the real reason behind their mysterious arrival. Everyone's favorite app becomes a hysterical animated feature and some really fantastic actors decide to lend their voices to the all of the fun.
Trollhunters: Season 1 (Dec.23) – When ordinary teenager Jim Lake Jr. stumbles upon a mystical amulet on his way to school one morning, he inadvertently discovers an extraordinary secret civilization of mighty trolls beneath his small town of Arcadia. Strong-willed and seeking adventure but wholly unprepared for the responsibilities thrust upon him, Jim is forced to take on the exalted mantle of Trollhunter, sworn to protect the good trolls from powerful enemies bent on revenge. The first human ever to hold the honor, Jim abruptly goes from fighting his way through the daily mayhem of high school to joining a war that has raged for centuries, a conflict that now threatens all of mankind and troll-kind alike. I've been ACHING to see this since it was announced. I'm a big Guillermo del Toro and this sounds like a lot of fun for kids and parents alike.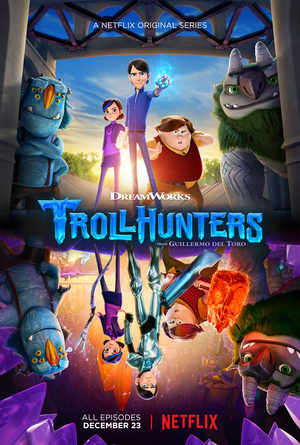 There's a ton of new stuff that will be up on Netflix in December, so be sure to pace yourself.
Happy Watching!!!