Summer is one of my favorite times of year. Vacations, multiple trips to the beach and grilling out. Especially the grilling part. I'm a big fan of barbecue and I do it every chance I get. There's something inside me that goes off and I want to grill everything I can get my hands on. Let me tell you, ribs are right on top of that list. There is nothing like throwing a beautiful slab over some hot coals and watching it cook into a flavorful masterpiece. I'm making myself hungry right now!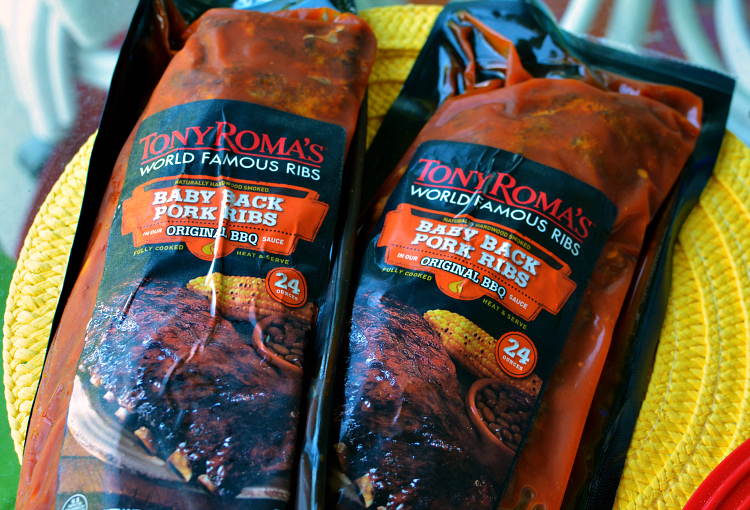 I recently received a beautiful grilling and party package from the good people at Tony Roma Ribs. Plates, cups, decorations, tongs, party favors and every other thing you could think of to host one heckuva July 4th party. But, the most important thing was the ribs. I honestly had never eaten Tony Roma Ribs and was looking forward to finally trying them. I took a trip to my local Walmart and picked up 10 slabs of ribs (C'mon… You can never have too many ribs!), each package is 1.5 lbs, pre-cooked and marinated in its own sauce. I invited some family over for July 4th and told them to bring some potato salad and their appetites. Tony Roma and I would supply the rest.
I fired up my grill, got the coals nice and hot, then I broke out my mountain of ribs. I'm always a little nervous not using my own sauce or rub on meat, it's just one of my things. As I mentioned before, Tony Roma Ribs come marinated in their own sauce, so you literally just take them out of the package and you are ready to go. Their sauce is a great combination of sweet, smoky and savory, I was really impressed! These meaty baby back ribs were an absolute dream to cook. 5 minutes on each side and they're done. Let me repeat that, 5 MINUTES ON EACH SIDE AND YOU'RE DONE. I couldn't believe it! I'd never experienced ribs that were smokehouse quality and could be prepared that easily.
Of course the true test is getting your family's feedback on what you've prepared, everybody has their own opinion on barbecue and how it should be cooked. My family loved them! They were moist and literally falling off the bone. You know you've done your job right when it's totally quiet in a room where a bunch of people are eating.
My  4th of July party was a huge success and I sent everyone home with full bellies and a smile on their face. Tony Roma Ribs are going to be my new choice when I'm entertaining this summer, and you should make them your choice too!
I received product for this post. All opinions are my own.