This post is sponsored by Black Creek but the content, opinions and love of the Grilled Jalapeno Cheddar Cheese Pretzel are my own.
My daughter just had her last day of school. Now that the summer is upon us, I'm going to need to come up with some fun, easy and tasty snack recipes. She's thirteen-years-old and is starting to get very interested in cooking. So, I challenged her on some recipe ideas. I said that I would let her cook whatever she came up with, but I got to make it first and decide if it was going on our summer snacking menu. Right out of the gate, she came up with this little gem… a Grilled Jalapeno Cheddar Cheese Pretzel!
Grilled Jalapeno Cheddar Cheese Pretzel
I would've put money on the fact that she was going to pick something with cheese on it. Our family is a bit snobbish about our cheese. It's one of those food items that we don't skimp on. Every time we find ourselves in a new state our country, the first thing we love to sample are the regional cheeses. Two summers ago, we spent a week in Door County, Wisconsin. They had some of the best cheese that I have ever tasted! Wisconsin cheese is just on a whole different level.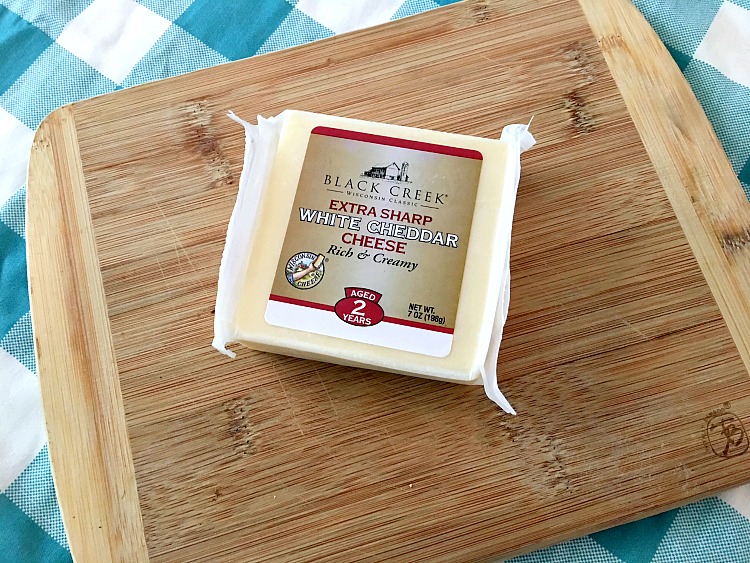 "Award-winning Black Creek® premium Cheddar cheese is born in Wisconsin's Fox River Valley, an area known for its rich soil and picturesque pastureland. The region's cows graze on these nutrient-rich grasses producing distinctly rich and creamy milk. Under the watchful eye of a Certified Master Cheesemaker, this milk is conscientiously cultivated into smooth, full-flavored Cheddar. Aged for up to three years, Black Creek® Cheddar offers a pleasantly sharp and complex flavor profile that is both rich and nutty."
We like the Black Creek® Extra Sharp Cheddar that's been aged 2 years. It's like bringing the best cheese in Wisconsin home with you.
Grilled Jalapeno Cheddar Cheese Pretzel Recipe
Ingredients:
1 box of frozen pretzels
1 7oz package of Black Creek Extra Sharp Cheddar (Aged 2 years)
1 jar of pickled jalapenos
Instructions:
Defrost pretzels.
Put them on a hot grill until soft and warm.
Put pretzels on a baking sheet.
Put 3 thin slices of Black Creek Extra Sharp Cheddar (Aged 2 years) on each pretzel.
Top with jalapenos.
Broil for 3-5 minutes or until crispy (Keep an eye on it).
Enjoy!